News
Refugio Oil Spill Lawsuits Keep Rolling In
Fifth Class Action Case Filed Against Plains All American Pipeline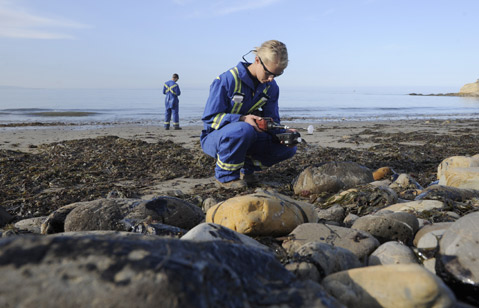 The fifth class action lawsuit against Plains All American Pipeline was filed recently in federal court, this one on behalf of commercial fishermen Keith and Tiffani Andrews and a handful of others impacted by the May 19 Refugio Oil Spill.
Residents of Santa Margarita in San Luis Obispo Country, the Andrews trawl for giant red sea cucumber — a top-dollar Asian delicacy — off Refugio State Beach. Those fishing grounds were closed from May 19 to June 29 and will remain tainted, according to the July 1 complaint, which also expresses the Andrews' worry "that the market for Santa Barbara sea cucumbers may forever be harmed."
Joining the Andrews, Goleta's Sarah Rothbone had to cancel more than 300 deliveries from her Community Seafood boat-to-table business, and fears lingering financial impact "for years to come." Other plaintiffs include Oxnard-based commercial fishermen Josh Chancer, local deckhand Cort Pierson, Los Angeles-based seafood processor Weihai Zheung, and Carpinteria's Joseph Viens, who is suing for lost service-fee income from several ATMs he owns along the Gaviota Coast.
This latest complaint follows four previous class action demands. On June 1, Santa Barbara-based urchin diver Stace Cheverez brought the first legal action (to which Plains has until July 24 to respond). On June 11, Erica Dahl, owner of Savvy on State, sued, alleging Plains's "actions and inactions will result in a continued downward . . . profit trend through Santa Barbara's peak summer tourism season and beyond."
More bad news for tourism-based businesses fills a June 16 complaint filed by Mark Hicks, owner of Captain Jacks, a Santa Barbara-based tour guide outfit that includes sailing and kayaking. And in a June 23 lawsuit, oceanfront homeowners on Arroyo Quemada Lane, just north of Refugio State Beach, contend long-term and perhaps irreparable drop in property value.
A Plains spokesperson said the company does not comment on pending litigation.