News
Dos Pueblos Robotics Program Unplugged
Students Distraught Over Sudden and Unexplained Decision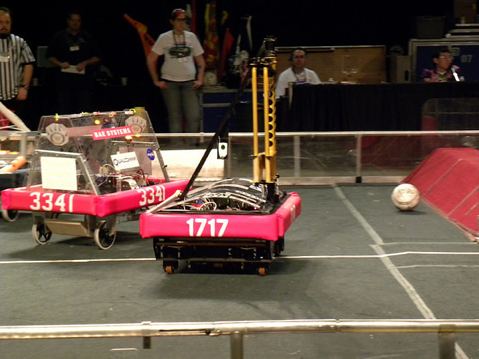 The locally popular and nationally recognized robotics program at Dos Pueblos Engineering Academy (DPEA) has been discontinued ​— ​abruptly and without public explanation ​— ​prompting Dos Pueblos High School students to vent their confusion and sadness at Tuesday evening's Santa Barbara Unified School District board meeting.
Lining up at the speakers podium, students looking forward to their senior year on the program's award-winning Team 1717 expressed dashed dreams after front-loading coursework for three years to make room for final DPEA demands. "We were promised a robot," one speaker said, adding to the general sentiment that DPEA "mentors [are] baffled, parents angry, and students, quite frankly, feel betrayed," according to another.
The decision to retire robotics "weighed heavily throughout the decision-making process and still weighs heavily on all of the DPEA staff," according to a written statement from Dos Pueblos Principal Shawn Carey and DPEA Director Amir Abo-Shaeer, among others at DPEA. Last year, the robotics senior project ran side-by-side with the inaugural Mechatronics multidisciplinary program, a concurrency that DPEA shot-callers have since deemed "not educationally appropriate," according to the statement.
Explaining that his board had nothing to do with DPEA's decision to unplug robotics, president Ed Heron and the others could only listen to the students' laments and accept Superintendent David Cash's offer to return with any feedback from questions he's prepared for Carey and Abo-Shaeer.