S.B. Questionnaire
The S.B. Questionnaire: Jarrell Jackman
Celebrating Two Years of SBQ with the Head of the Santa Barbara Trust for Historic Preservation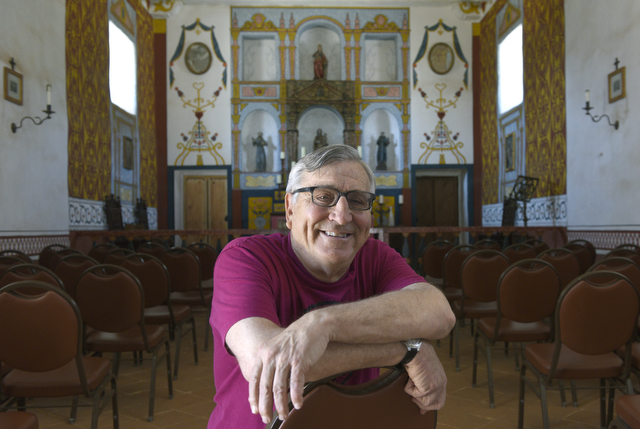 It's been two years since we started the Santa Barbara Questionnaire. We haven't deviated from our original mission: to showcase interesting people who live and work in our fair town by subjecting them to the standardized format of the Proust Questionnaire, a parlor game created by Marcel Proust in the 19th century.
I never imagined it would go this far, but it's been so rewarding to share the personal side of so many politicians, artists, business owners, and other individuals who make us proud to be Santa Barbara. A special shout out to Matt Kettmann, who edits my ramblings each week, and to photographer Paul Wellman, who brilliantly captures each willing subject with his iconic portraits.
It's fitting at the two-year mark to feature Jarrell Jackman, who, for close to 35 years, has led the Santa Barbara Trust for Historic Preservation. The trust manages El Presidio de Santa Barbara State Historic Park, which safeguards the history of our city. A shy but incredibly charming man one-on-one, Jarrell recently received the California League of Park Association Legacy Award for his inspirational leadership in support of California Sate Parks. His dedication to our heritage is admirable and certainly deserves such celebration.
Here, at our two-year milestone, Dr. Jackman answers the Santa Barbara Questionnaire.
What is your most marked characteristic?
Intensely intellectual. I love reading on all sorts of subjects, mostly fiction and history. Intensely religious.
What is your most treasured possession?
A personal letter author Wallace Stegner wrote to me about the greatness of John Steinbeck.
What do you consider your greatest achievement?
Editing and contributing two essays to The Muses Flee Hitler, published by the Smithsonian, and overseeing the making of 100,000 adobe bricks.
Which words or phrases do you most overuse?
Eschew obfuscation.
What is your greatest fear?
That I will not complete the three major research projects I have spent years on. They are: "Thomas Mann: Thinking about God and Germany in Los Angeles"; "The Price of Genius: Norman Neuerburg and the Creation of the Getty Villa"; and Felipe de Goicoechea, the comandante in charge of building the Presidio in the 18th century.
What do you like most about your job?
The fact that during my tenure at SBTHP we have made 100,000 adobe bricks, much of the soil out of melted adobes from the original buildings. I also love some of the people I have met along the way: Alice Rypins, Charles Storke, Carmen Farreras, James Mills, Julia Forbes, Linda Moore, Norman Neuerburg, Kathryn Masson, Barbara Harris, George and Vivian Obern, Prince Felipe of Spain, now king Felipe VI, and many, many more.
What is your greatest extravagance?
Driving my hybrid on Highway 50 in Utah and Nevada — the so-called loneliest highway in America.
What do you most value in friends?
Having them. CEO of a nonprofit is a lonely job — you can't be friends with board members for obvious reasons, can't be friends with individual staffers, because it looks like favoritism. I still have a little contact with high school friends, and we have this interesting shared past that has gone off in many career directions, but we still talk.
What is your idea of perfect happiness?
I don't believe in perfect happiness. It is not feasible in this life.
Who do you most admire?
My wife, Michele. She is brilliant and one of the great natural humorists in the history of the world. Tied for second are my daughter Renee, son-in-law Dana, grandchildren India, Paloma, and Zane, and my parents Ruth and Steve Jackman. Pearl Chase has to be mentioned. She founded the SBTHP was a force of nature — the Presidio project owes much to her.
What is your current state of mind?
Could be better!
What is the quality you most like in people?
Loyalty, and willing to discuss the big questions of life.
What is the quality you most dislike in people?
Disloyalty and cynicism.
Which talent would you most like to have?
A voice like Pavarotti, artistic skills of Goya.
If you could change one thing about yourself, what would it be?
Less self-centered.
Where would you most like to live?
Santa Barbara, then Ashland, Oregon. Lately I have grown fond of Cedar City, Utah, and if I had to live in Europe, where I spent six years: somewhere in Greece or Sicily near Greek Temples.
Who makes you laugh the most?
My wife. One time at Bacara, Bob Newhart came out unannounced and did a routine that was incredibly funny. Loved Jack Benny, Johnny Carson, Belushi.
What is your motto?
All the world is a stage, and all the men and women merely players.
Which historical figure do you most identify with?
Tie goes to Shakespeare, Cervantes, and whoever wrote the King James Version of the Bible. Jesus, Abe Lincoln, Hannah Arendt, Nietzsche, and Plato are favorites
On what occasion do you lie?
When there is no alternative.