Tablas Creek Vermentino 2014: While it's hard to beat sipping a rosé on a fine summer's day, this unusual white is a fine alternative. There are about a 100 acres of it planted in the U.S., but this grape is well-established in Corsica, Sardinia, and Italy.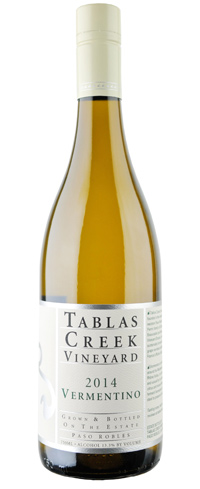 Tablas Creek's version is spry and racy, a vivid lemon-grapefruit citrus core with enough minerality and salinity to give it a pleasing edge. Refreshing, thy name is Vermentino.
Not surprisingly Tablas Creek gives this somewhat rustic grape traditional treatment — whole cluster pressing, using native yeasts. They then age in stainless, to keep the wine lean and far from mean, for this doesn't need any oak or extra tannins.
Enjoy on its own or with lots of seafood to make that salinity truly sing.
See tablascreek.com.