Positively State Street
The Ataris Return to Town; Girls Rock S.B. Hosts Summer Showcases
Alt-Rockers Play Blue Skies in It's Entirety; the Mutineers, Odessa Support Area Music Camp for Young Women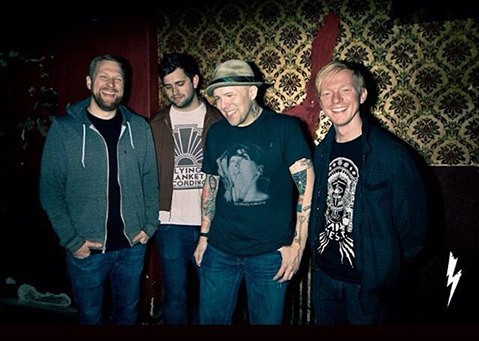 WHERE DO BROKEN HEARTS GO? Alt-rockers extraordinaire The Ataris play at Velvet Jones tomorrow, Friday, July 24, and I imagine it will be a significant show for the band and audience alike. Why? Santa Barbara is home to the Blue Skies mobile home park, where lead singer Kristopher Roe took a photo of the famed neon sign to use for the cover of their 1999 breakout album, Blue Skies, Broken Hearts … Next 12 Exits, for which they are now touring to celebrate. They will play the album in its entirety on the Velvet stage, allowing fans to relish the emotional-punk-influenced hits penned in a pre-millennium S.B. — though started in Indiana, The Ataris really took shape here in town. Furthermore, Goleta punk band Lagwagon's frontman Joey Cape produced the album, lending an extra layer of local connectivity.
Who knows if Roe & Co. found the 12 highway exits constituting Santa Barbara-Goleta especially heartbreaking. Blue Skies brings tears, as one Pumpkin-Smasher once wrote, and surely happy climes can magnify the sad times. But melancholy this show shall not be; The Ataris find their fun in forlorn experiences, and this Friday night homecoming will be plenty of fun, indeed.
GIRL POWER: For an alternative to the alt-rock, consider heading over to SOhO for the first of two Girls Rock S.B. Summer Showcases (the second is the following Fri., July 31). Each showcase follows a weeklong summer camp where young women are given the chance to form their own bands and write original songs. This Friday, July 24, is their chance to shine.
Following the performance comes a lineup of regional music pros. Santa Barbara folk-rockers The Mutineers will headline, with support from Odessa and Next Door to the Moon. Last year, The Mutineers suffered the tragic loss of guitarist and singer Michael Astudillo, and as of now their future as music-making Mutineers remains uncertain. The fact they would step up and support Girls Rock S.B. in this difficult transitional period makes their appearance all the more noble, and all the more worthwhile.
The following Friday, the artic-inspired The Blues and Greys will take a stand for Girls Rock with a slightly synthier angle on things. They have been relatively quiet this year thus far, so it will be a welcome re-emergence from these excellent indie rockers, lead by Feist-y front woman Lindsey Waldon. The Blue and Greys will be joined by reggae four-piece Soul Majestic, who just released their new single "Rockaway." No matter which showcase you attend, each will be in support of a great cause fueled by great talent — go, and let the girls know they rock.
GOINGS-ON ELSEWHERE: Fairview Gardens Center for Urban Agriculture needs your help. Tonight, Thursday, July 23, the longstanding Goleta farm will be raising funds at SOhO for their beloved educational and community-supported agriculture programs as part of the Cabin by the Sea Series, a monthly music event raising awareness on regional environmental nonprofits. Soul Scratch, a soul-funk band from the San Fernando Valley, will sew some groovy seeds in support of the beloved urban farm.
That same night, FUNZONE hosts some bands with especially fun names: Free Cake for Every Creature and I Tried To Run Away When I Was Six, both out of Philadelphia, suggest perhaps it really is always sunny over there. FUNZONE mainstays Honey Maid and Katie Murray will support them.
If you're looking for rowdy, hell-raising, countrified rock, then consider seeing the Chase Walker Band at Blind Tiger on Friday, July 24. This band of three teens has got the world buzzing with their bluesy bravado, with their debut Unleashed earning a Best Debut 2015 award from German music site Wasser-Prawda. Even Kenny Loggins has said of them, "They blew me away." On a Friday night stacked with good shows, if you like your rock classic, then these boys will be the best bet.