When you think Fiesta, you might think of mariachi, folklórico, and flamenco — less so contemporary rock and roots music. But Old Spanish Days are some of the best days in town to watch Santa Barbara musicians sing, strut, and strum. With three major stages to choose from ​— ​Mercado de la Guerra (MDG), Casa Cantina (CC), and Mercado del Norte (MDN) ​— ​live-music fans have their ears full these coming days and nights.
Fiesta brings some true veterans of the Santa Barbara music scene back once more into the spotlight. Spencer the Gardener will be playing not once, but thrice (CC on Wed. at 8pm; MDN Cantina Stage Fri. at 7:15pm; and MDG Sat. at 8:30pm). A perennial favorite, including the Wednesday-night affair that's become a preferred Fiesta kickoff party for locals, Spencer's sunny songs accented with brassy flourishes make for a perfect cultivar for the sights and sounds of Fiesta.
If rock 'n' roll is your forte, this year's Fiesta serves up a slew of classic rock standard bearers who will be familiar to some and rocking to all. Big-time blues-rockers and Alan Parsons road mates Alastair Greene Band will stop in town before taking off to Germany with Mr. Parsons (MDG Wed. at 8:30pm; MDN Cantina Stage Sat. at 4pm). Be sure to also catch Rick Reeves, who has played just about everywhere with everyone since the '80s and has sparked many a passion for guitar playing in local youths (MDG Wed. at 6:30pm). Rock fans can choose to end their Saturday with RedFish, who cover everyone from The Beatles and Deep Purple to Cage The Elephant and Daft Punk (MDN Cantina Stage Sat. at 8:30pm).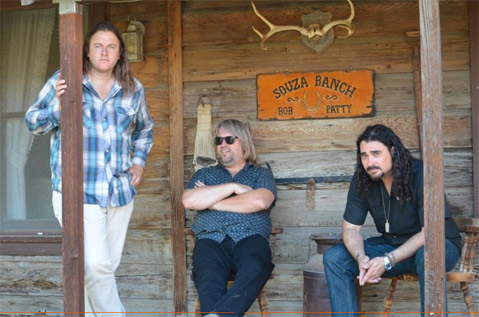 But while wise old veterans like Greene and Reeves prove rock never dies, this year's Fiesta lineup is a veritable Trix rabbit hole of young up-and-comers, many of whom will be covering songs written lifetimes before theirs began. Among the more notable bands is The Caverns, three Dos Pueblos pals who have made their name honoring riffs and licks from Led Zep and CCR as the Figueroa Mountain Brewing Co. house band (MDG Fri. at 4:30pm; CC Sat. night). Fiesta mainstays and Battle of the Bands winners Stolen Thunder disprove the old myth about lightning, striking the same festival again with their thundering mix of originals and classic rock covers (MDN Main Stage Wed. at 8pm and Thu. at 7:30pm). Coming up from L.A., Stereo Love, a family rock band, bring their rocking originals back in town after appearances earlier this summer at West Beach and Skater's Point (MDN Main Stage Sat. at 9pm). And then there's local punk-rock favorite Bad Jack, who have cleverly renamed themselves No Bueno Jack for the festivities (MDG Thu. at 5pm; MDN Main Stage Sat. at 8:15pm).
Filling out the youth brigade is a stacked lineup of many bright young talents at Mercado del Norte, including but not limited to the greatly named Awkward Band (Wed. at 8:30pm; Thu. at 9pm); acoustic singer/songwriter and Santa Barbara Teen Star finalist Brandi Lentini (MDN Main Stage Thu. at 5:30pm); official Outstanding Youth Leader and rising guitar maven Jamey Geston (MDN Main Stage Fri. at 5pm); plus many others. For all who want to support the youth, Mercado del Norte is the place to be during Fiesta.
On the groovier side of things, Victor Vega & The Bomb drop down once again to unleash the funk upon Fiesta, with two performances to get booties shaking (MDN Cantina Stage Wed. at 8pm; CC Thu. night). For a bit of tropicalia and reggae tones, De la Guerra Plaza is the place to be on Saturday, where an excellent one-two-three punch of David Courtenay & The Castawaves, Cornerstone, and Upbeat round out the weekend with a blend of reggae, jazz, and funk stylings ​— ​no better way to enjoy that late-afternoon margarita than relaxing in the vibes of these rock-steady groups.
Of course, it wouldn't be a Santa Barbara event without the dance cover bands, and the much-adored Area 51 will deliver their impressive roster of hits twice on Friday night (MDN Cantina Stage at 8:30 and 9:30pm). Don't you forget about The Molly Ringwald Project, another fan favorite and Friday-night alternative if you like to keep things strictly '80s (DLG Fri. at 6:30pm). Need some refreshers on your dance moves? Sean "Hip-Hop" Henry has you covered with a string of dance demos (MDN Cantina Stage Fri. and Sat. at 8:15pm).
So go out and give a hearty "Viva La" to regional rock, reggae, and dance-funk bands playing during Old Spanish Days. They'll bring the party ​— ​you just need to bring yourself.