Arts & Entertainment
George Clinton and Parliament Funkadelic at the Chumash Casino
Clinton and Parliament Still Funky After All These Years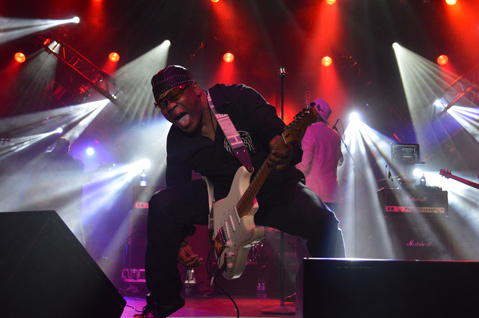 At 74, George Clinton still reigns as one of our solar system's true masters of funk, but now he is more dignified elder statesman than genius jester. Jazzily red-suited, trimmed, and classy, he presided over the funky proceedings at the Thursday, August 27, Chumash Casino show, in my cohort's words, like ringmaster to the circus, stepping back to showcase the younger talent of his tremendously large and tremendously lively band.
And talent they brought, from nearly pitch-perfect renditions of classic songs to stratospheric solos, including a scat solo during "(Not Just) Knee Deep" so astounding it had the distinction of being actually and thoroughly enjoyable — rare for a scat solo. The guitar and saxophone solos were electrifying as well, rendering some (like myself) into dancing supplicants at the powerful altar of funk. The tight grooves, meanwhile, had a subversive, brain-implanting quality, conducting unconscious head bobs and foot stomps under the hypnosis of quarter-hour stretches of song. Songs like "Flashlight" and "Give Up the Funk (Tear the Roof Off the Sucker)" were joys to behold, and "Atomic Dog" was especially stanky.
Other stage antics included a fantastically feline "Pole Power" and an acrobatic man clothed in luxurious white fur and a comically oversized Pinocchio proboscis, all unfolding with Clinton standing back, raising the roof with his tongue stuck mockingly out.
But while the prevailing prime minister of pep and his Parliament brought the party onstage, a third of the audience, confusingly, couldn't muster the energy to stand. Maybe it was the sun oven outside, or the recycled casino air inside; or perhaps age has been harsher to Clinton's fans than to it has been to him. Whatever the reason, many did not obey the command of funk. There was something surreal and sad to see a legend onstage, singing, "Shit! Goddamn! Get off your ass and dance!" to a stubbornly sedentary crowd. Something felt missing.
Clinton laughed, and maybe the joke wasn't lost on him. The tepid crowd certainly didn't stop him and his band from having a good time. So while there was an element amiss at the show, it was still a great one, especially considering how long the Funkadelic festivities have been raging. Perhaps time has tempered the tone the slightest bit, but sleepy Santa Barbarans be damned — for the most part, the Parliament party is still going strong.