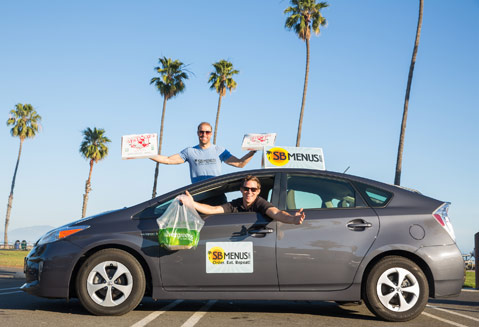 Ordering food online has never been simpler, as SBMenus.com continues to improve the way people in Santa Barbara find and enjoy restaurants. Founders Bryan Brand and Dusty Stutsman took their site a step further by launching a mobile app that lets you order your favorite food with a single click.
The new app, available for free on your iPhone, iPad, or Android, offers menus from more than 80 different restaurants for both delivery and takeout. The delivery feature has expanded in the past year to now reach all parts of Goleta and as far south as Montecito.
"We set out to create a convenient way for people to order food delivery and takeout from their favorite restaurants, said Brand. "Now with the new app, we're making it easier than ever to do so from their personal devices."
A key feature of the app allows you to constantly track your order to see where your food is at all times, a major advancement for the site that has been feeding Santa Barbara residents since 2008.
The two founders met at SBCC in 2004, and their shared penchant for entrepreneurship has been instrumental in their site's success, as has their familiarity with the area. "We knew how awesome Santa Barbara is as a community, and it turned out to be a great market for our model," said Stutsman, who reports using the app several times a week due to the wide selection of cuisines available.
New restaurants are encouraged to join SBMenus.com to spread the word about their menus and special deals. "The barrier to entry is nonexistent," said Brand. "Aside from a small setup fee, our goal is to help grow all businesses."
See SBMenus.com.