Bottles & Barrels
Solminer Dances on Wine Country's Fringe
David and Anna DeLaski Bet on Blaufränkisch, Grüner Veltliner, and See-Through Syrah in Los Olivos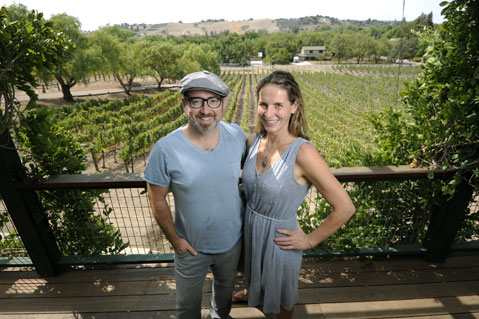 Grüner veltliner, blaufränkisch, and see-through syrah aren't wines that come to mind when you think of the Santa Ynez Valley, which is exactly why Solminer just might be the most boundary-busting brand in Santa Barbara wine country today.
The two-and-a-half-acre vineyard and adjacent home near downtown Los Olivos are owned by recovering electronic music producer David deLaski and his Austrian wife, Anna deLaski, who left her homeland 15 years ago to work as a sustainability-minded timber engineer in Canada. Living in cold Calgary, she came to Southern California every summer to thaw out and groove under the stars to trance music, like the kind cultivated by David's Ball of Waxx label. They met in 2009 at a full-moon gathering in the Mojave Desert and decided to ride bicycles in Solvang on one of their first dates. When Anna crashed, the bike trip turned into a wine-tasting one, and, as she put it, "We were scarred for life."
Doors of opportunity opened, and people, like winemaker-musician Steve Clifton — himself a master of the more obscure varietals — walked in, happy to spread the gospel of grapes. David and Anna got married in 2011 and, on their honeymoon, tasted a domestically grown grüner veltliner made by Zocker in the Edna Valley. "The light switch went on," said David. Same for Anna, who'd grown up on grüner living near Austria's Wachau region but didn't think California was cold enough for the racy, crisp, and texturally grippy white wine grape. "I was so surprised that it worked," she said.
With Clifton as guide, they searched for enough grüner to make a barrel, and when a near deal for some John Sebastiano Vineyard fruit fell apart, David explained, "We were crushed." Soon after, while wallowing in unrequited wine dreams, they stumbled upon the Los Olivos property. The owner had planted it with syrah in 2000 — alongside a handful of older cabernet sauvignon vines and riesling rootstock that date back to the 1980s — and was ready to get out because, as David said, "It was an expensive front yard." The deLaskis, however, were smitten by the chance to become part of the locally grown, sustainable farming movement. "I love music, and it will always be a part of me, but there was something else calling me, saying, 'Let's be creative with an organic vineyard,'" said David. "It was a split-second decision. We did it and never looked back."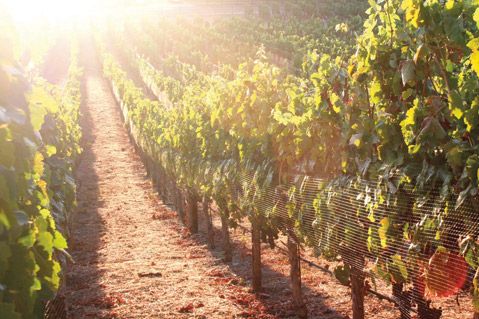 That was 2012, a big year all around. David's father — who had cultivated his son's palate during his Washington, D.C., upbringing with a cellar full of Château Haut-Brion, Stags' Leap, and Caymus — passed away at age 80; Anna got pregnant with their now 3-year-old son, Linus; and they made their first wines with Clifton: syrah from their new vineyard as well as grüner and riesling from purchased grapes. They christened the project Solminer, as in mining the soul, sun, and soils of the Central Coast, but David thought calling it "Soulminer" was a bit too "hippie-dippie."
Production of those first three varietals is now about 900 annual cases altogether, and today the syrah finds its way into one of three bottlings: Vollmond (with a touch of blaufränkisch, previously called "Full Moon"), the Rubellite blend (which gets a splash of grenache), and the popular red sparkler Nebullite. All of the reds are surprisingly, refreshingly light, lithe yet layered with savory flavors. "It's just very laid-back," explained David proudly of the Vollmond. "It goes against the grain for what you think of as Central Coast syrah." The 2014 grüner, meanwhile, is one of the best white wines I've tried in the past year, and there's also a rosé, a dry muscat from Honea Vineyards, and plans to explore the pinot noir universe soon.
In the vineyard, the deLaskis grafted over a half-acre to grüner and another third of an acre to blaufränkisch, which Anna called Austria's "most noble" red grape. You'll have to remain patient for the first blaufränkisch release, but a recent barrel taste showed tart strawberry and intriguing asphalt flavors. In line with their vision, they also certified the property as organic, with a touch of biodynamics in play. David admitted he didn't know much about eco-friendly agriculture when he started, to which Anna added, "And now you're stirring biodynamic preparations in the moonlight."
He sees the creative process of winemaking and electronic music production as quite similar, save for, of course, the electronics. "It's definitely as analog as it gets around here," said David, who now lives permanently with Anna and Linus in their sleekly remodeled Los Olivos home after a few years of splitting time between there and Los Angeles. They've been steadily taking the winemaking reins from Clifton — though he's still on hand to help when needed, being that the wine is made at his Palmina facility — and increasing the amount of estate fruit in all of their wines, which are already popular in Los Angeles hot spots like Republique and Silverlake Wine as well as Santa Barbara's Armada, Les Marchands, and Whole Foods.
"This is just wine," said David of this second act in a creative career, "but what goes into it is all about life. It's all about everything. Not to add too much importance to the wine itself, but there is a journey here that continues to deepen and unfold."
4•1•1
Solminer will pour a $10, five-wine tasting Saturday, September 26, 6-8 p.m., at Wine + Beer in the Santa Barbara Public Market. They will also be at BubblyFest in Pismo Beach on October 3 (bubblyfest.com), at Celebration of Harvest on October 10 at Mission Santa Inés (celebrationofharvest.com), and hosting a $45 harvest pizza party for just 50 people at their estate on October 11, 11:30 a.m.-3 p.m. See solminer.com.