Outdoors
Paddle to Protect Naples
Eye-Opening Kayak Excursion Explores and Benefits the Gaviota Coast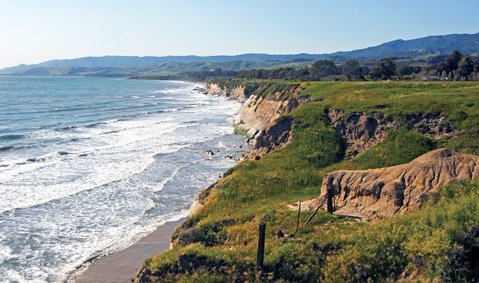 On a recent Friday afternoon, as we drag kayaks down to the shore at Haskell's Beach, Greg Helms is extolling the virtue of the paddle we are about to do, a leisurely two miles up the coast, past the Bacara, under the oil company pier, and onto the sands of the property known for a century or so as Naples. "Who needs the Channel Islands?" asks the longtime Santa Barbara conservationist with a chuckle, but he's only half-joking: Despite its proximity to town, this stretch of the Gaviota Coast is beautifully pristine and almost quite unexplored, save for a random surfer or hiker who knows that it's now legal to access the bluffs from the Dos Pueblos Ranch freeway exit.
The coastline's untrammeled reality is thanks to the never-ending efforts of people like Helms, who works today for the Ocean Conservancy, and Janet Koed of the Naples Coalition, which watchdogs any whiffs of development from Goleta to Hollister Ranch. After getting tossed by a tiny wave upon entry — a nice slice of humble pie after I'd extolled my kayaking virtues — I join them both on our journey toward Naples, led by Eric Little of Aquasports, who donates his equipment and guidance each year for the coalition's annual benefit paddle, this year on Sunday, October 4.
The water is crystal clear and iridescently blue, the dark dance of kelp visible from surface to sea floor. We cruise past the Bacara, shoot up through the oil pier's pilings, and then continue west along steep sandstone cliffs toward Seal Beach, where a harbor seal watches us land. We wander along the empty sands to the point, past lobster shells and sandpipers, and happen upon an oiled grebe and its attentive vultures. Save for our conversation and the warm breeze, it's silent, with views extending toward El Capitan and the Santa Ynez Mountains above. Ready to return, we hop back into our kayaks as a pyramid of pelicans coasts overhead, and we enjoy the breeze that pushes us home.
We did it all in a couple of hours, but you'll have much more time to explore if you join the Naples Coalition's Paddle for Paradise on October 4, from 8:30 a.m.-3 p.m. Tickets are $100 (all goes to the coalition) and include Aquasports guides and equipment. Call (805) 683-6631, email info@savenaples.org, or see savenaples.org.