Bottles & Barrels
Sangiovese from Santa Barbara
Winemakers Work to Master the Tricky Italian Grape
On a recent summer morning, the sun was strong above the rows of sangiovese that line the rolling hills of Ballard Canyon, where the earth between the vines is baked and cracked. The famous Italian wine consultant Alberto Antonini once declared that this spot "might as well be Tuscany," but the fingers of cactus lining the roadway and a spatter of gnarled oaks are markers that this is most certainly California.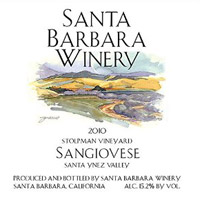 Sangiovese is a tricky grape to grow — even trickier, some argue, than pinot noir. Sangio's thin skin makes it susceptible to sunburn, and it's prone to over-cropping. So far, it's suffered from a spotty reputation in the New World and doesn't fetch anything close to the prices commanded by other varieties grown in Santa Barbara County. And yet, with a little more than 127 acres currently planted to the grape, there are a handful of Santa Barbara County producers who have not only stuck with this temperamental variety but have also come to love what it produces here.
"The grape is really happy here," said Peter Stolpman, whose family has been making Ballard Canyon sangiovese for 20 years, now producing about 1,200 cases of it annually, including a carbonic version made from earlier-ripening fruit. Light and refreshing, that's best served with a chill.
Scott Cellars' Peter Scott Fraser, who built his reputation on pinot, is also enamored. "I needed to find something I could specialize in when everyone else was already doing a great pinot," explained Fraser, whose special attention to sangio's reaction to different soil types is reflected on bottlings named for the dirt types rather than the vineyards.
Also producing sangiovese in Santa Barbara County are Mosby, Silver, Carr, Jonata, Toccata, Coquelicot, Buoni Anni, and Rusack, though 2013 will be the latter's last vintage. Generally speaking, the wines are richer in flavor and endowed with a depth of structure not usually noted in their Tuscan counterparts, proving distinctly Californian. Here are some bottles to find.
Stolpman Sangiovese 2012: Aged 36 months in neutral oak, the wine is brightly aromatic with notes of blue fruit, blackberries, and rose petals. Ripe fruit flavors saturate the palate without overwhelming it; the wine has a persistently light body and a freshness that keeps it on its toes. A dusting of tannins on the finish insists on another sip. $32
Makor White Hawk Vineyard Sangiovese 2011: Standing out for both a low price and restrained alcohol, this wine is light and bursting with vivid red cherry fruit and a layer of spice. Tannins lend texture but don't cloy. Drink with pizza. $16
Palmina "Undici" Sangiovese 2012: This wine is named after the famous Spinal Tap quote about turning it up "to eleven." (Undici is "eleven" in Italian.) After 34 months in barrel, the wine's aromas of black raspberry and rose petals leap from the glass. High acidity keeps it aloft, and a light body redolent of cola and dark fruit finishes with spicy tannins. $46
Scott Cellars "Sand Dune" 2012: Named after the sandy soil of the White Hawk Vineyard, this wine is graceful and pretty. Vibrant aromas of raspberry jam hint at a wine that is light, pretty, and juicy, with a touch of spice on the finish. $36
Tre Anelli Sangiovese 2012: Sourced from the Estelle Vineyard at the valley's hotter end, this bigger style shows sweet baked blue fruit on the nose, nice acidity, soft tannins, and chocolate notes on the finish. $34