Arts & Entertainment
Coheed & Cambria Showcase New Material At Ventura Theater
Setlist Features Energetic Pop-Punk Of 'The Color Before The Sun'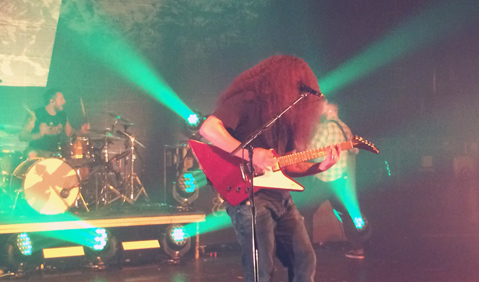 Having just dropped their eighth studio album, The Color Before the Sun, last month, progressive rock band Coheed & Cambria arrived at The Ventura Theater on Tuesday, October 27 for the nearest stop on their tour. This new record serves as a major departure from the band's status quo of playing music relating to frontman Claudio Sanchez's sci-fi mythos and comic series The Amory Wars.
Bands oftentimes struggle when they attempt to depart from a working recipe that made them successful, but The Color Before the Sun proved that Sanchez and company are talented and confident enough to step outside their comfort zones. Having seen them perform earlier this year at The Observatory in Santa Ana, I was eager to see how they planned to incorporate their new songs into the setlist.
Coheed & Cambria elected to play four of their new songs in pairs, launching into "Island" and "Eraser" to start and returning six songs later with "You Got Spirit, Kid" and "Here to Mars." Although the tracks deviate from the band's prevailing post-hardcore, progressive method, their new record hearkens back to an energetic, pop-punk style with appropriately-placed metal breakdowns, and the absence of a recurring theme or story allows the listener to craft a narrative in their own mind.
One has to commend the band for delivering a strong show to a disengaged adolescent audience that had trouble recognizing any songs older than 2005, but it was heartwarming to hear Claudio launch into a rarely-played oldie in "33" as well as the lesser-known "World of Lines." The band's catalog has grown so large over the past 13 years that they simply don't have the stage time to play every album's hidden gems and crowd favorites together, which is why they started the Neverender concert series – shorter tours focused around playing an entire album over the course of a given night.
On the morning of the Ventura show, the band announced yet another slew of tour dates for the beginning of 2016, meaning this writer will have the chance to see them for a third time in a calendar year when they play the Hollywood Palladium in March. They've set the bar high enough at this point that I'd expect nothing less than a stellar experience for those in attendance.