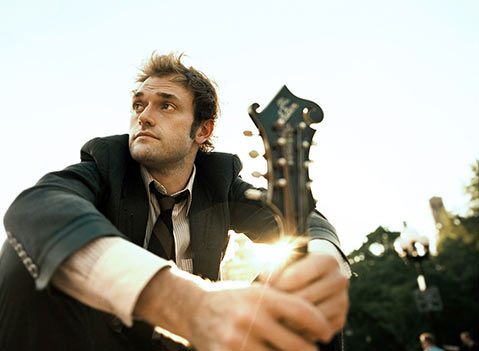 During his last concert at the Lobero in February 2014, mandolin virtuoso Chris Thile thrilled the audience by segueing from Bach to bluegrass — sometimes in the middle of a piece. Don't be surprised if similar transitions occur when Thile is onstage at the Lobero this Sunday, November 8, for another passionate solo performance. Thile has been on a wild ride since his last visit. He and his wife, Grimm star Claire Coffee, welcomed their first child, Calvin Thile, into the world in May 2015, and in July, Thile announced that he would succeed Garrison Keillor as host of A Prairie Home Companion in the fall of 2016. With that much going on, most mortals would take some time off from touring, but not Thile, who has more than two dozen gigs scheduled between now and New Year's Eve, with the month of November devoted to solo shows and December set aside for getting back with his group Punch Brothers.
When I caught up with Thile by phone from his home in Portland last week, he was hanging with Calvin, and he had the kind of morning-sun warmth in his voice that the fathers of 5-month-olds get sometimes. About the Bach sonatas, Volume 1 of which he released in 2013, he said, "the second half is coming — I'm getting ready to record it now." When I asked him what it took to decide he was ready to record Bach in the first place, he told me that he "learned about Bach by performing" and that he "finally felt up to" recording the sonatas after having played them often enough at theaters like the Lobero, which he praised as "one of the greatest halls in the world." As for what to expect this time, Thile promised "spontaneous calls set-list-wise — I'm trying to be lighter on my feet." Something tells me that won't be hard for this fleet-fingered master musician.
411
Chris Thile plays the Lobero Theatre (33 E. Canon Perdido St.) on Sunday, November 8, at 7 p.m. For tickets and information, visit lobero.com or call (805) 963-0761.