Living
Dream Foundation Prepares for Annual Gala
Honoring Veterans and Supporters on Saturday, November 7, at the Bacara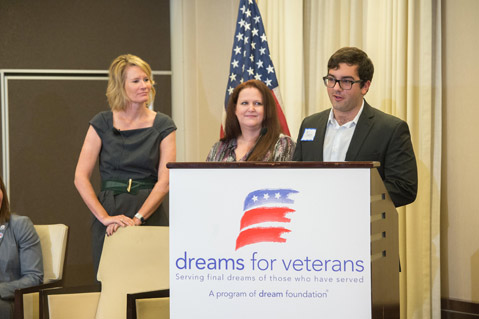 The Dream Foundation will honor its corporate partner Gentiva Hospice Foundation and acknowledge supporters of the newly launched Dreams for Veterans program at its 14th Annual Celebration of Dreams Gala on November 7. The Dream Foundation is the only national organization that grants wishes to adults facing life-threatening illnesses. Founded in 1994, the organization, which is headquartered in Santa Barbara, served its 20,000th dream in 2014.
"For families who have been financially devastated by medical expenses, a dream is the comfort of knowing the heating bill will be paid," explains the foundation's website. "For those with young children, it's creating happy memories and having fun. For young adults, a dream can be meeting a personal hero. And for children facing the impending loss of a parent, a dream is receiving support and compassion."
Two notable attendees at Saturday's gala will be Sheri and Jimmy Malone, wife and son of dreamer James "Jim" Malone, who passed away one day before fulfilling his dream of visiting Washington, D.C. Malone was a U.S. Navy veteran who served 1977-1981. He received his wish from the Dream Foundation through the newly launched Dreams for Veterans program, which serves terminally ill vets. The program has been serving veterans since 2014, but was formally launched in mid-September of 2015.
Malone's son called his father's time in the Navy his "crowning achievement in life," and told The Independent that his father was always modest about his service. "If we went to a ballgame and they'd asked for the veterans to stand up, he'd always hesitate because he had a hard time accepting those kinds of honors because he thought peace-time veterans were lesser than war-time veterans," said the younger Malone, whose dad passed away on June 24 from a terminal adenocarcinoma.
Malone's wife and son were able to attend the formal launch of the Dreams for Veterans program in Washington, D.C., this past September. "This is such an important program," said Sheri Malone. "Our veterans are an underserved part of our population, and it's disheartening to me that I'm starting to hear stories again about how a lot of these veterans are coming home and they're not feeling like they made a difference. They're not feeling like it mattered, and their service matters so much to this country, and the Dreams for Veterans program and the Dream Foundation is such a good way to give back to these veterans."
The gala's honorees include Gentiva Hospice Foundation, which has helped serve more than 9,000 final dreams; CKE Restaurants Holdings, Inc. and its president/CEO Andy Puzder; John Paul DeJoria, CEO/cofounder of John Paul Mitchell Systems; and The Patrón Spirits Company.
The event is expected to draw a "national audience of celebrities, special guests, and Foundation supporters," according to the Dream Foundation, and will feature performances by American rock band OAR, country singer Natalie Noone, and classical singer Sara Stevens. Santa Barbara's Andrew "The Bachelor" Firestone, and his wife, Ivana, will host a live auction. There will also be a surprise cameo appearance, promised the foundation's executive director, Kisa Heyer. "I'm not allowed to say who will be doing it, but we are very excited about that, as well," said Heyer, who also explained that the foundation will unveil a new logo and mission statement at the gala.
The gala will be held on Saturday, November 7, at Bacara Resort & Spa. See dreamfoundation.org.