Columns
Isla Vista Is Disappearing
Oceanfront Properties Losing Ciff-Faces to Erosion
Back in the days of Isla Vista's Vietnam protests, a bike path wound its way behind Del Playa Drive's oceanfront residences. Nowadays, a small, dusty remnant of it remains only along the western-most edge of town. Back then, a drunken reveler leaning a bit too far over one of those back fences fell only a few feet. Now, it's an all-too-often lethal plunge down to the sand.
Over the course of a generation, erosion has relentlessly eaten away the cliffs between Del Playa's hodgepodge of iconic ocean-side homes and the sea to the point of nonexistence; the concrete slabs of several properties' backyards jut three to five feet over the edge of the cliff. Certain fences between them abruptly end 40 feet in the air. With the cliffs losing an alarming several inches to a foot each year, erosion has rapidly become a pressing issue for residents and property owners.
Isla Vista sits on a 45,000-year-old terrace and experiences erosion rates similar to much of the surrounding coast. The cliffs are made from shale, a soft sedimentary rock that any I.V. beachgoer can tell you crumbles easily in your hand. This shale is held together by compaction, in which the rock's collective weight compresses it into its current form.
The rock's crumbling nature, perhaps fortuitously, means the cliffs erode away episodically in relatively small chunks, rather than in catastrophic landslides.
According to Edward Keller, a professor in UCSB's Earth Science department, the erosion is due to two phenomena, which contribute roughly equally to the problem: wave erosion at the cliff base and terrestrial water runoff at the top, including rainfall, groundwater seeps, and urban runoff.
Despite the increasingly precarious position Del Playa's ocean-side homes find themselves in, the once-in-a-lifetime views and cultural aura surrounding the properties still ensure a competitive race to secure a one-year spot.
"We didn't really think too much when we first got the place," said Matt Mersel, a recent UCSB graduate who lived in an ocean-side house during his senior year. "But then, eventually, we would be sitting out in the backyard, and we'd look over to the house next to us that was kind of set in from the cliff more. We could see, 'Oh, that's where they had to tear down half of the house because the foundations are exposed and just hanging over the cliffs.'
"Nights when the waves were really strong or there was a storm — when the waves would break against the cliff — our entire house would shake," he said.
Residents of Isla Vista's most-coveted neighborhood typically aren't aware of the nature of the cliffs' erosion nor how it's addressed, said Mersel. There's an implicit understanding that property owners wouldn't let students rent if living on the edge really was an immediate danger.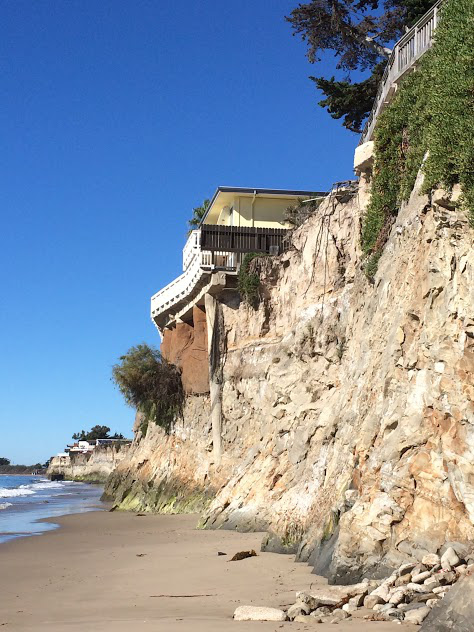 The duty of monitoring the erosion falls to the county's Bluff Erosion Monitoring Program, a 10-year-old component of the Building and Safety Division. The program conducts annual surveys as well as inspections after storms, according to a report the Planning and Development department presented to the county supervisors when the issue came up a couple months back. When buildings come within 15, 10, and five feet from the edge, the department requires certain action to be taken, from hiring a professional to develop a monitoring and repair plan to, as a last resort, issuing a notice and order to vacate the building. When a large chunk of the cliffs slid away along the 6600 block in May, property owner John Abedi had to obtain an emergency permit to demolish the rear 30 feet of an apartment building.
And with a turbulent winter approaching, the chiseling away at Isla Vista's cliffs is only projected to intensify.
"We expect it will accelerate during El Niño," said Keller. The resultant higher sea levels and wetter weather only intensify wave and runoff erosion.
As eternal as ocean-side Del Playa might seem to be, the rapid erosion rates are making it clear that it cannot physically last — at least in its current form.
According to Keller, solutions are limited, and cost-effective ones are virtually nonexistent. A seawall, which has been proposed, would have to be as high as the cliffs themselves to be somewhat effective, he says, and would only address wave erosion and result in narrowing the beach and depleting its biodiversity.
"It's a poster child for beach erosion," he said. "Isla Vista desperately needs an overall coastal management plan."
For the foreseeable future, demolition remains the most viable option, with cases like Abedi's certain to become increasingly common.
"It'll probably be back anywhere from 10 to 20 feet," said Keller of where the cliff edge will be in 20 to 30 years' time.
While demolition is by no means a permanent solution, it could still buy Isla Vista a few decades. Meanwhile, the already-small town will continue to gradually shrink.