Theater
High School Theater Bonanza
Santa Barbara Area High Schools Present Fall Shows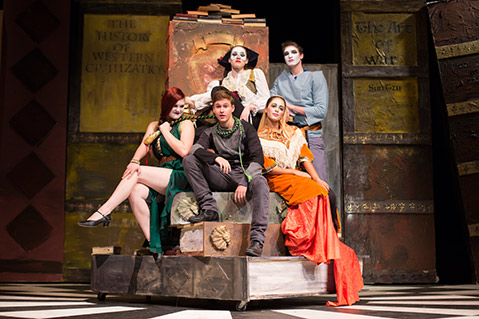 It happens every year, right after the costumes and (what's left of) the candy from Halloween gets put away and right before the Thanksgiving holiday — that special time when it seems as if every theater in Santa Barbara is busy, from the Granada to the grade schools, from UCSB to CST, SBHS, SMHS, SBCC, and on through most of the rest of the alphabet. If you happen to be one of the few people left who are not in rehearsal or getting your makeup done, don't worry, because all you have to do is figure out how to get to all the shows you will want to see. By way of assisting you in this challenging task, here's a guide to four of show-mageddon's hottest tickets, each of them the product of one of our area high schools' busy drama departments.
Pippin at Santa Barbara High School
Many schools coast through the fall season on drama alone, leaving the big musicals — with their outsized casts, props, orchestras, and budgets — for springtime, when young people's thoughts turn naturally to such things as great first-act finale songs. Not Santa Barbara High, though, where student interest in musical theater has traditionally been through the roof and where director Otto Layman and a remarkably diverse team of creative personalities consistently deliver musicals in both autumn and spring semesters. This year's fall production is Pippin, with music by Stephen Schwartz and the book by Roger O. Hirson. SBHS stage veteran Bradley DeVine is Pippin, and the divine Camille Umoff will perform the role of the Leading Player. Christina McCarthy's choreography is sure to be spectacular, and her UCSB colleague Jon Nathan is the show's music director. In addition to Layman, who is now in his 20th year at the school, the other creative principals are Mike Madden (lighting), Bonnie Thor (costumes), and Rachel Short (vocal director). The show has already been up for a weekend and continues Friday, November 13, at 7 p.m.; Saturday, November 14, at 1 and 7 p.m.; and Sunday, November 15, at 2 p.m. at Santa Barbara High School (700 E. Anapamu St.). Tickets are $25 for reserved orchestra seating, $15 for adults, and $10 for students. Call (805) 966-9101 or visit sbhstheatre.com/tickets soon, as this classic show is likely to be very popular.
Harvey at Laguna Blanca School
That big bunny is back — if he exists. Dana Ortner chose Harvey for her first show as Laguna's new drama teacher because of its sweet nature and cross-divisional appeal. Visitors to the school's intimate Spaulding Auditorium can expect plenty of laughter and expert performances from the enthusiastic students in this dynamic program. Shows run Thursday-Saturday, November 12-14, at Laguna Blanca School (4125 Paloma Dr.). Tickets are $10 for adults and $8 for students and are available at the door. Call (805) 687-2461 or see lagunablanca.org.
Peter and the Starcatcher at Dos Pueblos High School
Clark Sayre, DP theater program director, has a knack for landing the first shot at the authorized high school productions of major Broadway shows, particularly those licensed by Disney Theatrical Productions, and Peter and the Starcatcher is another in a series of such coups for the program. The play by Rick Elice is not a musical, but it does include music by Wayne Barker and is based on the novel by Dave Barry and Ridley Pearson. Joining director Sayre on the professional creative staff are producer/technical director Noel Greer, choreographer Gioia Marchese, musical director John Douglas, and costume designer Miller James. Performances are Friday, November 13, at 7 p.m.; Saturday, November 14, at 2 and 7 p.m.; and Sunday, November 15, at 2 p.m. in the Elings Performing Arts Center (7266 Alameda Ave., Goleta). Tickets are $12 for adults and $10 for students. Call (805) 968-2541 or see dphs.sbunified.org.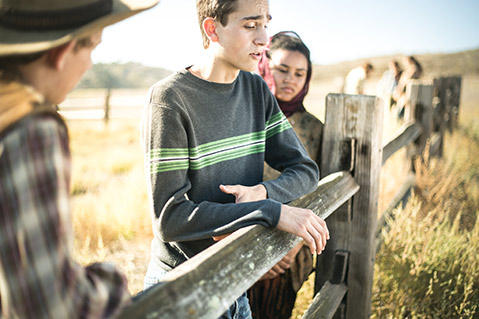 The Laramie Project at San Marcos High School
The Laramie Project at San Marcos carries an emotional charge of personal significance for director Riley Berris. As a theater student at Loyola Marymount University, she lost a dear friend who died in a car crash while driving back from Laramie after a fact-finding trip there in preparation for the Project's LMU Theater production. It's a big, serious undertaking for a high school drama department, but that's standard at San Marcos, where for many years David Holmes set a high bar for both the musicals and the dramas. After last year's excursion into intellectual history with Picasso at the Lapin Agile, Berris and her team take on the fin of the 20th siècle and its own set of cultural demons. Performances run Thursday-Saturday, November 12-14, at 7 p.m., with a matinee Sunday, November 15, at 2 p.m. at San Marcos High (4750 Hollister Ave.). Tickets are $6-$8 for students and $12 for general admission. Call (805) 967-4581 or see shopsmroyals.org.