Sports
Moninda Marube Wins S.B. Half Marathon
Kelly Couch First Female Finisher In Veteran's Day Race
Runners went from sea to shining sea last Saturday during the sixth Santa Barbara Veterans Day Half Marathon. Because of traffic concerns at the entrance to the UCSB campus, the army of some 2,500 men, women, and children was diverted to the bike path at Goleta Beach before the racers merged onto Highway 217. That gave them a good look at the ocean, which they did not see again until they descended Shoreline Drive on their way to the finish of the 13.1-mile race at Leadbetter Beach. Participants praised the new configuration of the course, which formerly started at the Page Youth Center and traced its way on residential streets for the first several miles.
For the fourth time here, Moninda Marube showed his Kenyan distance-running prowess. Marube, who has settled in Maine, twice won the erstwhile Santa Barbara International Marathon (2010 and 2011), and last year he won the half marathon. His time of 1 hour, 8 minutes, 41 seconds — almost three minutes faster than runner-up Sean Harrington of Goleta — set the standard on the new course. Kelly Couch of Hillsborough was the first female finisher in 1:22:48.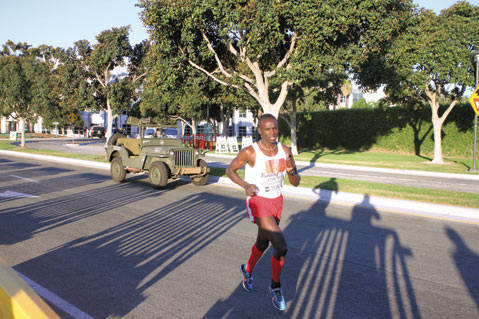 Aside from the scenery — which included a colorful corridor of star-spangled banners in the last mile — this run was no day at the beach. The rolling hills on Modoc Road and the half-mile climb on Cliff Drive made it a demanding physical and mental test, accentuating one's sense of accomplishment. "That hill — it killed me," said Marube, who was clipping off five-minute miles until he made the left turn off Las Positas Road. He lost his tempo but was in no danger of losing the race.
While the first dozen or so finishers were separated from the pack, the half marathon was a social affair for most people and a platform for a number of causes. There was thematic recognition of military veterans, many of whom traded boots for running shoes. Prominent throughout the race were runners wearing the "Never Give Up" shirts representing the Gwendolyn Strong Foundation (GSF).
Gwendolyn Strong lived almost eight years in the grip of spinal muscular atrophy (SMA), a disease that affects children similarly to ALS's seizing of adult bodies. With her parents pushing her in a specially equipped stroller, Gwendolyn did three Santa Barbara Half Marathons, including last year's. She died in July, three months short of her eighth birthday.
Her parents, Bill and Victoria Strong, both ran on Saturday. "It was an emotional run for us both," Bill said, "but in a good way" — because 125 other runners and 25 sponsors joined them on Team GSF, raising $125,000 for the foundation devoted to SMA research.
Lucy Lunt, 7, was one of three youngsters with SMA who carried the torch that started with Gwendolyn on Saturday. "We've known the Strongs since her diagnosis," said Lucy's mother, Cherisse Lunt, of Palo Alto. "This is the first time I've run with Lucy. It was hard pushing 100 pounds. I thought I did pretty good."
BIG APPLE PRIDE: Santa Barbara residents along the half-marathon route were forewarned there would be traffic delays when the highest concentration of runners entered the city. But it was nothing like what New Yorkers experienced during the New York City Marathon, which occurred on November 1. Almost 50,000 runners started in consecutive waves on Staten Island. A solid mass of moving humanity filled Brooklyn's Fourth Avenue for several hours. I was there, and I was trying to figure out how to cross the street. It would have been necessary to enter the flow of runners and change lanes, perhaps running a half-mile before working my way to the other side. I found another solution: reboarding the subway that had taken me there and going one stop further. There were an estimated million spectators lining the streets — fans of the Mets, Yankees, Knicks, Nets, Giants, Jets, Rangers, and Islanders — all united in support of the runners.
OUR MAN IN HAVANA: Veteran Santa Barbara runner Gary Clancy ran the hometown half-marathon as a warm-up for the Havana Marathon this Sunday. He is one of 567 registered participants from the United States, seven times the previous number, in the 29th edition of Cuba's race, known as the Marabana.
OUR MAN IN HOUSTON: Curly Guillen of Goleta is trying to qualify for the 2016 U.S. Olympic Marathon Trials on February 13 in Los Angeles. "I need a fast time," he said. The standards are 2:18 for a marathon or 1:05 for a half, and that's why you didn't see him on the Santa Barbara course. "It's hard, and I need fast competition," he said. The graduate of Dos Pueblos High and UCSB set a personal best of 2:23:33 at the Chicago Marathon last month. "I got into a funk," Guillen said. "When the lead woman [Kenya's Florence Kiplagat, who finished in the same time] caught up, I snapped out of it." His last shot will be on a flat course at the Chevron/Houston Half Marathon on January 17. His coach, Terry Howell, said the Thanksgiving 4 Miler at the Magnolia Center will be a speedy time trial. "Curly wants to run 19 minutes," Howell said. That's 4:45 per mile.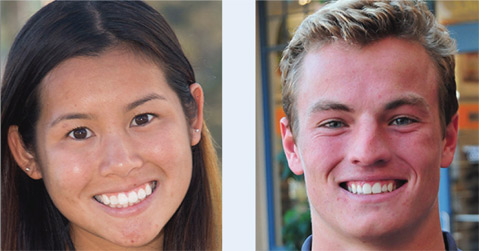 Athletes of the Week
Julia Gan, Cate Tennis. She swept her singles sets, leading the Rams to CIF Division 2 first- and second-round wins.
George Kuesis, San Marcos water polo. He scored three goals and made several big defensive plays, helping the Royals beat Santa Barbara to earn a share of the Channel League title.