Dance
'Romeo and Pirouette' at SBJHS
State Street Ballet's Library Dances at S.B. Junior High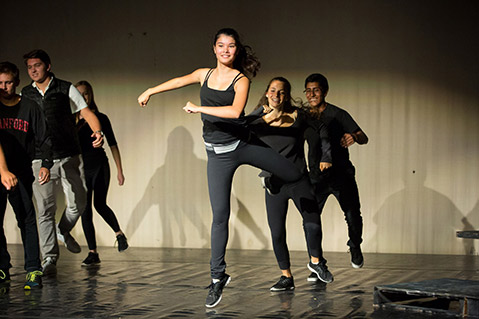 Students everywhere love to move, but it's up to their teachers to decide how that will happen. While it could mean remaining cooped up and fidgety at a desk until recess, there are alternatives that don't sacrifice learning for the sake of physical activity. One of the best and most innovative educational programs designed to combine movement and serious study was created right here in Santa Barbara by Cecily Stewart, a dancer and community outreach specialist with State Street Ballet.
In Stewart's Library Dances program, professional dancers collaborate with teachers and students to create a hybrid performance that's based on a work of classic literature. Students enter the world of a great book through movement as well as reading, and the results are spectacular. Young people who might otherwise be intimidated by ballet or Shakespeare wind up onstage, fully engaged by both art forms at once.
This weekend, Santa Barbara Junior High School presents its Library Dances project, the cheekily named Romeo and Pirouette, for two nights, on Friday, November 13, and Saturday, November 14, at the school's Marjorie Luke Theatre. For this production, SBJHS drama teacher Rich Lashua has recruited not only Stewart and her State Street Ballet team but also UCSB's Heather Stanford, an Equity actor who has created Shakespeare programs for schools all over the country.
The first half of Romeo and Pirouette pairs acted scenes from the play Romeo and Juliet as adapted by Stanford with dances choreographed by Stewart. The 25 Santa Barbara Junior High students will act the scenes on their own and then dance with four performers from State Street Ballet: Leila Drake Fossek, Daniel Salinas, Anna Duwaldt, and Isis Uribe. After intermission, the students will return to present Drop Dead, Juliet!, a one-act comedy by Allison Williams that asks what if there were a little less poison in Shakespeare's plot and a lot more romance.
Earlier this fall, 48 high school students at Laguna Blanca School participated in a Library Dances production of The Scarlet Letter. As the teacher responsible for bringing the dancers to Laguna Blanca, I can attest that the excitement and popularity of the program is unparalleled. There's something about being around professional dancers that gets students interested in the arts like nothing else I've witnessed. Their unique combination of discipline, athleticism, and passion for the art form makes them extraordinarily effective as mentors.
Add to that the fact that Stewart teaches with such warmth, energy, and generosity that everyone feels motivated to get onstage and dance their best, and you have a recipe for maximum educational impact. When students reread the text after performing it, they are returning with a deep sense of who the characters are and of what's at stake in every scene. I've never had a group get this involved in The Scarlet Letter before, and that's largely due to the vivid understanding of the story they achieved through participating in Library Dances. The same was true of our 2014 experience, in which we performed Shakespeare's A Midsummer Night's Dream. If you have ever wondered what total student engagement in classic literature would look like, you should get to the Luke this weekend and see for yourself.
4·1·1
Romeo and Pirouette takes place Friday-Saturday, November 13-14, at Marjorie Luke Theatre, 721 East Cota Street. Both performances are at 7 p.m., and tickets are available at the door. For more information, call (805) 884-4087 or see luketheatre.org.