Living
Trikke Tech Unveils 'Freedom' E-Bike
Santa Barbara County–Based Electric-Bike Company Releases Latest Model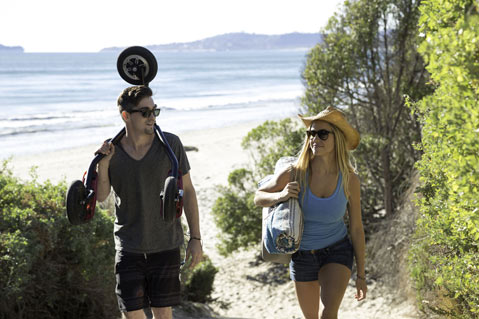 "Back to the Future Day" on October 21, 2015, came and went without any signs of a truly functional hoverboard. But that didn't stop Santa Barbara County's Trikke Tech from unleashing its newest model, Freedom, a three-wheeled electric bike that its inventors hope will become the urban "car" of the future.
"Freedom is our dream to change the game for the e-bike market," said Trikke cofounder John Simpson, who believes electronic bikes could be the solution for gridlock in population-dense cities. "The streamlined style and modular design provides a new lease on urban transportation and redefines the sheer joy of riding an electric vehicle."
Powered by a detachable lithium-ion battery capable of more than 400 recharges, the Freedom runs up to 15 miles per hour and, thanks to a lightweight, collapsible design, can easily be stored and carried after commuting to work. The three-wheeled, self-balancing setup is also more stable than two-wheeled e-bikes and positions the rider higher than other vehicles, allowing for better visibility.
Already the Freedom is attracting many demographics. "We've put older people on it; we've put younger people on it," said Simpson, who explained it's the first lithium-powered e-bike to be sold for less than $1,000. "It's perfect for people who want something fresh, different, fun, and green."
The team at Trikke, which is based in Buellton, started developing three-wheel "cambering vehicles" in 2000. They've already sold 500,000 such bikes but want to put an electric bike in every home. The Indiegogo crowdfunding campaign for Trikke's Freedom, which runs until December 12, quickly eclipsed its $22,000 goal, but there is still time to support the project, and the first 60 to pledge $599 will get their own.
"The world needs the Freedom e-bike," said Simpson. "It improves people's lives and can help make the world a better place now and for the long run."
See trikke.com.