Real Estate
DELux LED's Innovative Way to Change Your Bulbs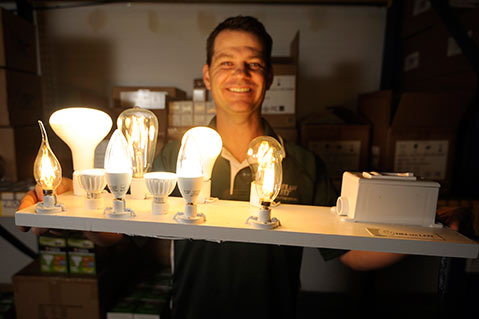 Reconfiguring your energy consumption to reduce environmental impact is no simple undertaking and can often end up being a costly, complicated matter. But that's where DELux LED comes in.
"Over the years, we've found that people love the idea of saving money, saving energy, saving the environment," said Jason Weaver, DELux's president and CEO. "But they're not so keen on the idea of spending hundreds of dollars all at once to buy these LED bulbs."
Based in Goleta, DELux LED manufactures and distributes LED (light-emitting diode) lightbulbs and fixtures for residential and commercial use that come in a variety of sizes and styles. LED bulbs, whose use has skyrocketed over the last decade, save significantly more energy than their more common incandescent counterparts and last as long as 20 years.
Customer savings come in the form of the company's Pay as You Save (PAYS) program, where the money that customers save on their electric bills from switching to LEDs becomes their payment toward their new bulbs, which come with a five-year warranty. Since entering the industry, Weaver and his team have accumulated numerous design and utility patents.
For Weaver, the potential of LEDs was first illuminated at a 10-day RV show a decade ago where he witnessed a homemade-LED vendor consistently selling out his stock. That was when the lightbulb lit up over his head, and he realized that "there's something to this whole LED thing."
From there, he jumped into the niche market with Starlights, Inc., producing 12-volt bulbs for RVs, boats, and cars. The residential and commercial market, however, was where he really wanted to be. "One of the biggest challenges that we were trying to overcome was how do we get these bulbs into as many people's hands as possible, and how do we get over the initial price shock," he said.
With the drop in LED prices and an increase in their quality, DELux LED was born. The company's PAYS program emerged as a hybrid between different energy-saving payment plans Weaver had previously encountered. "I think [the PAYS program would] be much more palatable for people to take the plunge because it's a net-zero cost to them," he said of enticing potential customers into reducing their energy consumption.
DELux LED, which manufactures and consolidates its parts in China, distributes its bulbs and fixtures from its warehouse in Goleta. Customers have included the Lobero Theatre, the Santa Barbara Historical Museum, and the Santa Barbara Zoo.
To find out more, visit deluxleds.com or call (805) 308-2995.