Visual Arts
The Broad Museum
New Broad Museum a Monument to Old Los Angeles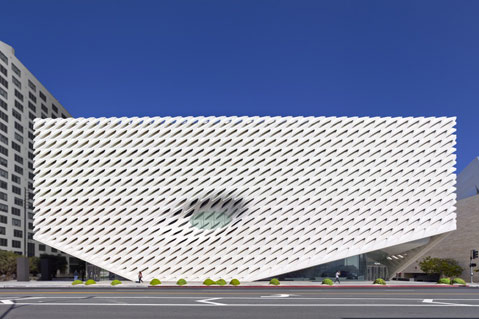 The Broad Museum of Contemporary Art, which opened September 20 in Downtown Los Angeles, will be, its benefactor Eli Broad hopes, the crown jewel of a reconfigured Grand Avenue on Bunker Hill, the long-awaited "civic and cultural center for a region of 15 million people." Broad and his wife, Edythe, have invested considerable capital in making this notion a reality, spending $800 million over the years on L.A.'s cultural institutions, much of it on Grand Avenue, including major gifts to the Museum of Contemporary Art across the street and Walt Disney Concert Hall next door, for which they led the construction capital campaign in the 1990s. (These in addition to giving $60 million to build the Renzo Piano–designed Broad Contemporary Art Museum at the L.A. County Museum of Art campus on Wilshire Boulevard.)
What the $140 million building isn't is a contribution to L.A.'s cultural life in the 21st century. Instead, it represents the final monument to the powerful institutions that dominated Southern California in the last century: the region's Growth Machine, an interlocking suburban industrial complex made up of developers, banks, insurance companies, newspapers, and the government agencies that supplied the services and infrastructure to support their business model.
Eli Broad made his money first in mass-producing suburban tract houses, beginning in 1957 in the Detroit suburbs, before moving on to Phoenix and Los Angeles. He used the stock market to leverage his wealth, taking his company KB Home public, as he later did with SunAmerica, the insurance and retirement savings giant he founded in 1971 and sold to AIG in 1999 for $18 billion. His name-plated museum will be in good company on Grand, joining the three original 1967 buildings of the Music Center: the Dorothy Chandler Pavilion, paid for by the family fortune anchored by the virulently pro-development Los Angeles Times; the Ahmanson Theatre, funded by Howard Ahmanson, the owner of Home Savings & Loan, a major financier of Southern California's suburban expansion; and the Mark Taper Forum, named for the housing tract developer who built the city of Lakewood, and swaths of Norwalk and Compton, before founding a Beverly Hills bank. The Music Center's fourth venue, Disney Hall, is named for the man who sited Disneyland in 1955 in a bulldozed orange grove alongside the brand-new Interstate 5 being extended from Downtown L.A. into the new suburban frontier of Orange County.
These benefactors got fabulously wealthy by cracking the code of postwar American development: obtaining cheap land on the periphery of cities, financing on good terms (owning one's own bank helped), and getting the government to underwrite the highways, electricity, mortgage insurance, tax deductions, and defense-industry jobs that made suburbia possible. Possible, that is, for white people exclusively — in the era of unchallenged white supremacy, suburbia was closed to others and was in no small part fueled by white flight away from the diversity of central cities to areas where "good schools" and "low crime" were watchwords for racial and class homogeneity.
The irony is that the only immediate progress for racial equality achieved in those decades didn't come with the civil rights laws aimed at black Americans — since that revolution hasn't even yet fully paid off for millions — but the grudging acceptance of Jews as "white," especially if they were wealthy enough. In the mid-'60s, WASP socialite Dorothy Chandler reached out to Mark Taper, a Jew born in Poland, for a million dollars to complete the Music Center. Eli Broad, born in the Bronx to Lithuanian Jewish parents, follows his footsteps down Grand Avenue.
It is useful to recall that Bunker Hill was once a diverse working-class neighborhood, bulldozed in the '60s at taxpayer expense to build high-rise banks and freeway ramps for the white-collar suburbanites who worked in them. It is appropriate that the true jewel of Downtown's civic crown is the Department of Water and Power building, a 1961 modernist icon that dominates the hill. City Hall's position at the low end of Grand Park makes clear where power has lain since the days of William Mulholland. This infrastructural legacy is honored a few blocks down First Street by the Caltrans District 7 HQ, whose plaza is unsurprisingly named for Eli & Edythe Broad.
Lining both sides of Grand Park and the crossing streets below Grand Avenue is a parade of stolid buildings housing the rest of the government apparatus that maintains order in this "region of 15 million people"—making up what Mike Davis, author of City of Quartz, called the "carceral universe" of police, courts, prisons, and probation, immigration, and administrative agencies. On the main axis are the L.A. County Sheriff, L.A. Superior Court, Clara Shortridge Foltz Criminal Justice Center, and L.A. County Superior Court; just off the park are the U.S. District Court, Hall of Justice, U.S. Bankruptcy Court, Roybal Federal Building containing the U.S. Marshals Service, the General Services Administration, Citizenship and Immigration Service, L.A. Fire Department, L.A. Police Department's new headquarters building and old one at Parker Center, and of course, the Los Angeles Times building. Not far away is the densest concentration of prisons in America: the Men's Central Jail, the Twin Towers Correctional Facility, and the Metropolitan Detention Center.
The majority were built in the decades of the postwar suburban boom in some variation of neoclassical modernism — a dull idiom of white, symmetrical facades studded with regular windows and no ornamentation, often employing precast concrete panels. Think of the buildings of William Pereira, who designed half of the short, white skyscrapers on Wilshire Boulevard, or those ubiquitous Home Savings branches around the region, white boxes livened up with cheerfully bright mosaics of suburban families having fun at the beach. The Broad, despite its promoters' rhetoric of innovative design, is of a piece: a box wrapped in white, precast panels — the "veil" that hides the "vault" within, a dark concrete bunker where the art is stored. It not only looks like a 1960s bank but also acts like a 1960s bank, this one for billionaire art collectors. The art collection is a perfect match: canonical examples from all the usual suspects of the American Century — abstract expressionists like Rauschenberg and Johns, pop artists like Warhol and Lichtenstein, and their postmodern offspring, like Jeff Koons and Damien Hirst. Setting aside the fact that the collection, while made up of quality art from quality artists, feels like a children's version of contemporary art history: each work being among the easiest, and most colorful, of each artist's oeuvre, so that the whole feels like a department store version of New York's  MoMA collection: super bright and sticky sweet. There is little that is new, little that is from Los Angeles, even less that is from the current century.
In spite of its splash, The Broad is already largely irrelevant to the cultural life of the vast majority of Angelenos and will have little to say about their future. It may be a fitting monument to last century's power structure, but the Growth Machine that it implicitly celebrates has broken down. A few blocks away, the freeways are gridlocked and crumbling, homeless camps and luxury lofts alike proliferate, while affordable housing is a disappearing dream and the public schools lack the resources to teach art in the classroom. What L.A. needs isn't more fancy architecture on top of the hill, but a new blueprint for building a 21st-century global city, integrating its civic-minded elite and its broadest cultural ambitions. Art institutions ought to be down in the city, where real people live, and be about making, not buying — about inspiring, not showing off. They should be about art, not architecture — such as the Geffen Contemporary in Little Tokyo, an old warehouse simply redesigned for what it can stage, not for what it owns. Or better yet, like Inner-City Arts, in Skid Row, an (admittedly high-architectural) arts campus where thousands of school children are given the opportunity to learn about and make their own art, every year, in a city where arts education has been largely stripped from the public schools.
Let's enjoy the billionaire's $140 million gift, and then move on to creating a truly vibrant Los Angeles, with a creative built environment to match its artistic and cultural diversity.