Visual Arts
Peter Halley at SBMA
'Geometry of the Absurd: Recent Paintings by Peter Halley'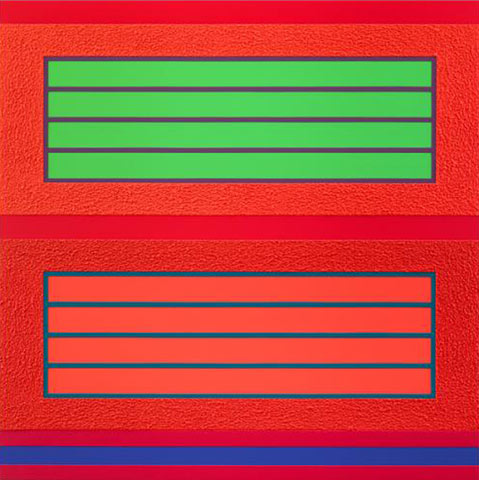 At a time when many artists decry the antiseptic white box of the traditional gallery as an outmoded form of presentation, there are still some shows, such as Geometry of the Absurd: Recent Paintings by Peter Halley, that make the familiar format feel new and exciting. Nothing but the high ceilings, bare walls, and shiny expanses of hardwood flooring in the Santa Barbara Museum of Art's Davidson and Colefax galleries could handle the sheer wattage and single-minded intensity on display in this series of eight large paintings created by Peter Halley between 2007 and 2015.
Working within a strict regime of design (the "double stack" motif), palette (bright Day-Glo colors), and materials (acrylic paint and Roll-a-Tex), Halley composes some of the contemporary art world's most distinctive and recognizable abstractions. These are large paintings that, however powerful they may be in isolation, beg to be seen in series, and SBMA curator Julie Joyce has answered that plea with a resounding "yes" that offers discerning viewers the opportunity to experience the full range of Halley's vision and message.
The hyper-articulate Halley has never gone back on his initial claim that there's a fundamental common basis for understanding both minimalism and what was once known as the art of the "New Wave." In his seminal essay on "Beat, Minimalism, New Wave, and Robert Smithson," published in Arts Magazine back in 1981, Halley wisely asserted that, despite apparent surface differences between the Beats, the minimalists, and the new wavers, "All three express America's fascination-repulsion for its shallow cultural roots and its vulnerability to the impact of technological change."
In his own painting, Halley developed an abstract language of geometric shapes designed to represent the "prisons, cells, and conduits" that typify not only the guts of our electronic devices but also the patterns of our social interaction, and even the circuits of the thoughts in our postmodern heads. Walking through the exhibition, one experiences these paintings first as sheer sensation — the bright contrasting colors set off vibrations in the eye that are impossible to ignore. But soon that immediacy is offset by the cool rationality with which the artist works through his variations, opening and closing the conduits that connect his "stacks" to the background, and shifting the size and frequency of the various elements in subtle ways.
For me, this led to the impression that the series has a kind of musical directionality, and that in Koinonia (2013) and then again in Self/less (2015), the set of experiments comes to an implicit climax. This impression is of course highly subjective, and your mileage may vary, but there can be no doubt about what a satisfying and interesting ride this is on the crest of Peter Halley's endlessly new wave.