News
Two Injured in Head-On Highway 154 Collision
Officials Say Pickup Truck Hydroplaned, Hit S.U.V.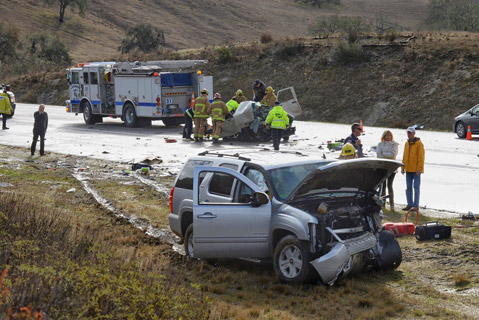 A two-vehicle car accident on Highway 154 near the Highway 101 interchange around Los Olivos injured two men on Tuesday midmorning and briefly closed Highway 154.
Officials believe the collision occurred when a Ford Ranger pickup truck traveling eastbound on Highway 154 hydroplaned on a turn, began to turn sideways, and crossed into the westbound lane where it hit a Chevrolet Tahoe "head-on," said Santa Barbara County Fire spokesperson Mike Eliason. First responders arrived on scene at approximately 10:12 a.m. with two engine companies and two AMR ambulances.
The Ford Ranger's driver, a man in his forties, suffered major injuries and firefighters worked 15 minutes to extract him from his truck, according to Eliason. The Chevrolet Tahoe's driver, a man in his fifties who suffered moderate injuries, was trapped inside his car for 10 minutes while firefighters worked to extract him. The two men were the cars' sole occupants.
Due to the stormy weather, no helicopters were able to transport the men to the hospital, reported Eliason. Instead, the Ford's driver was taken via AMR ambulance to Santa Barbara Cottage Hospital and the Chevrolet's driver was transported similarly to Santa Maria Marian Regional Medical Center.
Highway 154 has re-opened, said Eliason, and the Buellton CHP Office is handling the accident investigation.