Film & TV
'Joy' a Joy to Watch
Director David O. Russell's Latest Hit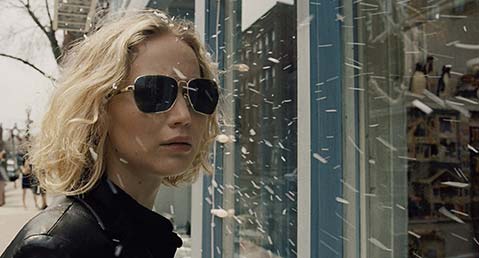 For the first half of this movie, reality gets dragged around. Joy opens with a stilted drama, actors performing melodramatic dialogue without making eye contact. Not until later do we understand we're watching daytime serial actors in the studio, and then, through a TV screen darkly, we see them acting face to face. At roughly the same time, we learn that the people watching the show are Joy (Jennifer Lawrence) and her family, whose lives roughly resemble those of the soap opera stars. The big difference is that Joy is pushing a magical mop instead of detergent.
Based loosely on the life of Joy Mangano, a real household gizmo inventor second only to Ronco's Ron Popeil, director David O. Russell's film places his Joy in a nexus of crazies. As usual, his casting is magic: a romantically challenged father (Robert De Niro); his new Italian girlfriend (Isabella Rossellini); Joy's soap-opera-addicted mother (Virginia Madsen in gaudy glasses); and in a casting coup, Elisabeth Röhm (One Life to Live) as Joy's permanently pissed-off half-sister. Dreamer grandma Mimi (Diane Ladd) supplies wistful narration.
The movie doesn't quite live up to the joys of Silver Linings Playbook or American Hustle, but it has subtle joys of its own. Russell keeps switching between TV and reality like changing channels, and in the second half Bradley Cooper arrives as an executive at the QVC home shopping network, another housewife escape vehicle where Joy's ragged path to success is launched. A tour de force takes over the finale when our heroine goes on air to promote her genius invention. At times, this movie feels disjointed and cut like a rough collage, but the bounces between truth and illusion are the point. It's a perfect conclusion to the trilogy of Russell's American odyssey films starring Lawrence and Cooper. Whether his focus is on a dance contest fantasy, an elaborate political scam, or television networks that run commercials 24 hours a day, Russell revels in the hoaxes we all drag into our real worlds.