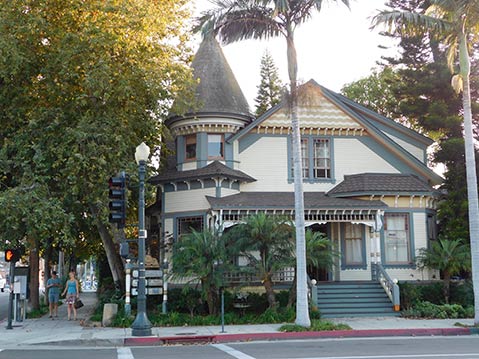 Original Owner: Frank B. and Ellen Jane Smith, and Widow Clifton
Year Built: 1897
Architect: Unknown
Queen Anne Victorian architecture became fashionable in the United States from the 1800s through the early 1900s and was seen as an alternative to the French-derived Second Empire and Beaux-Arts styles. The picturesque style was attributed to a wide range of free-form details that often included round, square, or polygonal towers topped with an iron finial, wraparound front porches, decorative brackets with detailed spindlework, and patterned wood shingles resembling fish scales.
Though the exact builder and architect of this home are unknown, the downtown landmark on the corner of Chapala and Haley is an excellent example of the Queen Anne Victorian style. It has served many different residents and tenants in its 120-year tenure:
1895: Frank B. and Ellen Jane Smith purchase the land from John Peck Stearns, for whom the wharf is named.
1897: With the Smiths retaining ownership of the land, a home is constructed on the site for a woman known as "Widow Clifton."
1906-1943: The house is sold to W.H. and Florence Hartwell, with varying members of the family utilizing the property as a boardinghouse and later expanding into the six-unit Chapala Apartments.
1959: The property's regime as an apartment building ends and takes on several commercial tenants.
1960-1963: Home to the celebrated French restaurant La Tourelle
1964-1971: Independently owned photography studio
1972-1974: The Salvation Army–sponsored Christian home Casa de Vida serves as a rehabilitation center for alcoholics and drug offenders.
1974-Present: Retail and office space