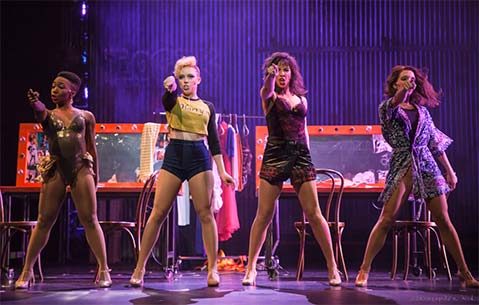 In the 1983 movie Flashdance, Jennifer Beals played Alex Owens, the Pittsburgh steelworker by day/exotic dancer by night whose dream of attending an elite dance conservatory improbably comes true. In addition to selling lots of leg warmers, and costing even more sweatshirts their collars, Flashdance established a template for the music videos that were beginning to take off on the fledgling cable channel MTV. Radio-ready pop hits provided the beat, and director Adrian Lyne (who also directed Nine 1/2 Weeks) framed the female figure as suggestively as the film's R rating would allow. The film's soundtrack remains in heavy rotation wherever there's an '80s night, and new generations of teens in search of recognizable '80s costumes still tease their hair and show a little shoulder to achieve that oh-so-imitable Alex Owens look.
Considering all the adoration, energy, and longevity associated with what was originally an inexpensive dance flick, it was only a matter of time before someone adapted Flashdance for the Broadway stage. The version of Flashdance the Musical that arrives at the Granada for performances on Tuesday and Wednesday, January 12 and 13, represents the continuing evolution of a project that got started in London in 2008 when original screenwriter Tom Hedley collaborated with Robert Cary and songwriter Robbie Roth. The show received a choreographic makeover courtesy of Toronto-based Sergio Trujillo (Jersey Boys, Memphis) in 2013, when a slated Broadway debut was postponed in favor of a national tour.
With the part reimagined not only to feature more Broadway-style ensemble dancing but also to give the character some great songs to sing, the role of Alex Owens in Flashdance the Musical has emerged as a coveted one for young performers looking to debut in a high-profile, high-energy lead. That's one of the reasons that Julia Macchio, who plays Alex in this production, was so excited to get the part. The other is that her father, Ralph Macchio, starred in The Karate Kid, another of the most memorable movies of the 1980s.
For the 23-year-old, who was not even alive at the time either of these films were in release, it's a blast going back to the future with her fellow Flashdance cast members. "I love the music, both from the original film and the new songs that Robbie Roth has written, and the part is perfect for me," Macchio told me by phone from New York. "I have been dancing since I was a little girl, and the message that you have to stay true to your dreams resonates for me very powerfully. Plus it's fun to be in something that's so physical and demanding. Alex is in almost every scene."
Is there anything else she would like the audience to know before coming out to catch the show? "Yes — I do get doused with water, just like in the movie. We couldn't leave that out!"
For tickets and information, visit granadasb.org or call (805) 899-2222.