Film & TV
'The Revenant' Is Slow-Paced Suffering
Leo DiCaprio Stars in Remake of an Epic Western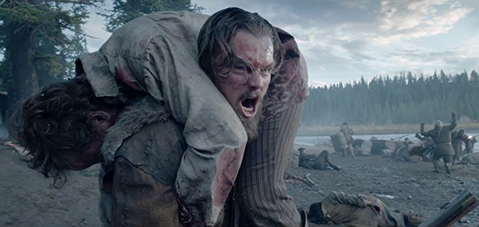 Turns out "revenant" is Old French for "survivor porn." The title of this three-hour epic remake of the 1970s Richard Harris vehicle Man in the Wilderness doesn't describe the real movie we watch, even if our battered hero with the fragile moniker Hugh Glass (Leonardo DiCaprio) crawls out of a freezing mud grave and goes back to civilization for revenge. He's not back from the dead much as he is wading through hell on earth. Though cinematically beautiful beyond anything at the movies, it's a half-hour too much slow-paced suffering. In the end, the audience goes cold.
The Revenant opens thrillingly with a quasi-military fur-trapping march suddenly invaded by Indians we barely see. Director Alejandro González Iñárritu, who made last year's astonishing Birdman, remains infatuated with long shots, and we experience the attack as if one of the trappers. Arrows come from every direction and enter white bodies in numerous horrifying ways. Later, Glass walks along a river when he runs into a mama bear and her cubs. The CGI attack is both real and surreal. The problem with The Revenant, however, is that it keeps heaping on the horror. Glass drags us through so many freezing, grimy, gross-out, and stabby encounters it begins to feel like Le Théâtre du Grand-Guignol in a national park. He's driven by revenge against a sullen man named John Fitzgerald (Tom Hardy), and all we wonder is what DiCaprio's Academy acceptance speech will be.
You could argue that The Revenant underscores the horrors of the American genocide, though the role of the Pawnee in this story is a lot closer to revenanting than Glass's is. It's more like an indictment of our romance with the making of the west, but that's been done better so many times, from Little Big Man on, that this seems dull. In real life, Glass forgave his horrible counterparts — even lived with them for the duration. Of all possible endings, the true story more honestly reflects the true state of our civilizing history. Everybody forgave everybody else, and today a freeway runs through it.