Cover Story
Gems of UCSB's Special Research Collections
We Peek Inside the Vaults to Find Tomes by Dante to Steinbeck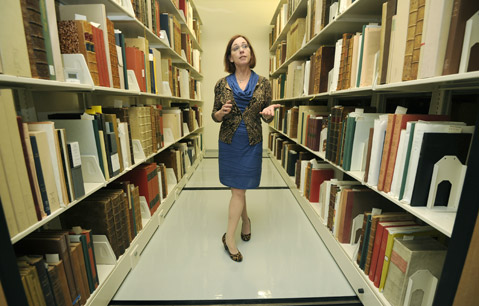 Danelle Moon turned a large black hand crank, and a bookshelf twice her height glided silently away from the one in front. We stepped into the opening and scanned the rows for books about Lincoln as she talked about the library's cherished William Wyles Collection, 40,000 volumes on the 16th President, the Civil War, and the American West. But we didn't get far. We kept getting distracted.
Moon, head of the library's Special Research Collections (SRC), stopped when she spied a velum-bound copy of Dante's Inferno circa 1825. "Oh, this is neat," she said, flipping through pages of nightmarish William Blake engravings. A few feet away we pored over a 1493 Bible with an embossed leather cover and the handset type that had been invented by Johannes Gutenberg just a few decades earlier. We could have kept going back in time, but there was more to see.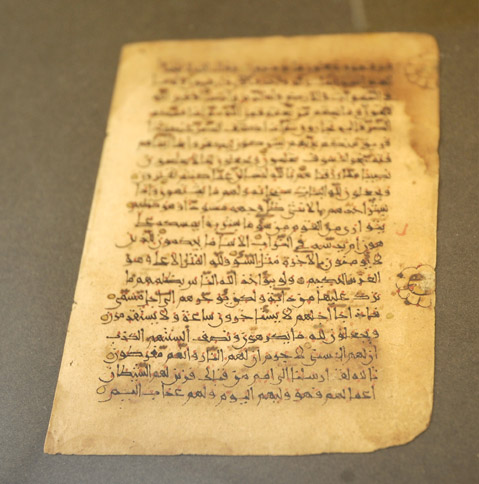 Moon and her team of curators are still getting settled into their new digs, which offer much more room than their former home in the bowels of the old Davidson, but they're already grateful for the extra space to collect, preserve, and digitize. "Yes, we're excited," she said. Above us on the third story of the just-opened Mountain Side of the library is a wide room with floor-to-ceiling windows and dark wooden tables where visitors wearing white gloves carefully view the building's most coveted items.
As we continue through the labyrinth of shelves below, Moon gets especially excited over her recent acquisition of photographer Eadweard Muybridge's Horse in Motion book, and boasts of the university's trove of first editions: Ulysses, Anne Frank: The Diary of a Young Girl, The Grapes of Wrath, and so on. She snags such prizes on the open rare book market or finds them at events like the upcoming California Antiquarian Book Fair. Most of her go-to vendors operate out of San Francisco. Prices per item range from $50 to thousands of dollars, though the average is around $1,400, she estimated. Fundraising fills the budget.
Many items are donated, as well. Santa Barbara publisher, philanthropist, and avid book collector Sara Miller McCune, for instance, occasionally runs out of shelf space at her home, where a priceless legacy of literature will one day go entirely to the university. "We're happy to have her as a friend of the library," Moon said. While donations used to be most common, collectors are choosing to sell their caches more often these days.
On January 28, next to the SRC viewing room, the library will host a two-month exhibition of some of its proudest gems. Called Modes of Codex, the show will feature texts that trace the history of the written word, from ancient manuscripts on clay, bone, and papyrus to late-16th-century illuminated illustrations to modern fine press and artist books, including work by UCSB students and faculty.
Here is just some of that lineage: