Film & TV
'Anomalisa' Breaks the Rules
Charlie Kaufman's Latest Film Is Stop-Animation Brilliance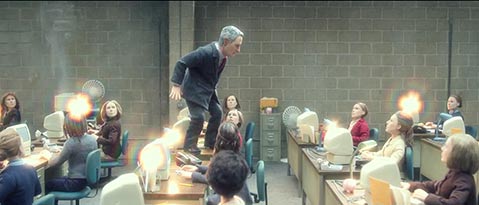 If there is any constant in Charlie Kaufman's films, it's his contrarian streak regarding moviemaking "rules." In a Santa Barbara Film Fest panel years ago, Kaufman defended the idea of writing against all writing-school dictums. More than that, his movies seem indefensibly crazy. Imagine pitching Being John Malkovich or Eternal Sunshine of the Spotless Mind to a studio head. Thank heaven Kaufman exists.
Anomalisa is a stop-action animated film based on a play Kaufman wrote for a dramatic-reading festival and is no exception to his Lord of Misrule Rule, though the story is exceptionally simple. A motivational speaker named Michael Stone flies into Cincinnati for a conference, tries unsuccessfully to hook up with an old girlfriend in the hotel where he's staying, but then meets an unusually vulnerable girl named Lisa, whose voice offers him a rare thrill.
This being Kaufman, there are some surreal twists, including a dream sequence. But the main quirk offered ought to remain in surprise for the moviegoer. (It's central to Stone's narcissistic bent.) Of course, the most dramatic rule-breaking aspect is the story's medium — the cartoon. Kaufman and codirector Duke Johnson not only decided to present the play as a labor-intensive stop-action animation but also allowed their puppets to be transparently constructed. Joints and face panels appear plain as if to underscore that this naturalistic tale is also totally artificial.
It's not what animation usually does. Instead of superhero magic, the movie leaves you marveling at plain acts and sights. The act of putting a credit card key in a motel door becomes intricately interesting. Many dismiss animation as a bastard child of Saturday-morning commercialism. Here's a chance to see one of the purer forms of cinema applied to adult topics and themes. (Yes, there is a sex scene.) You may not walk away from this movie mind-blown by puppets, but you'll have a hard time forgetting the heartbreaking residue of Stone's march through the mundane.