Film & TV
'Floyd Norman: An Animated Life'
Filmmakers Michael Fiore and Erik Sharkey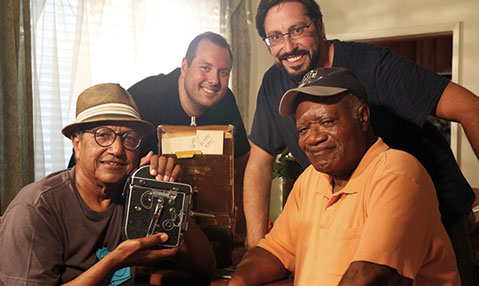 WORLD PREMIERE
Not only was Floyd Norman the first African-American employee at Disney in an era of outright segregation, this Santa Barbara-raised artist and writer also worked intimately with Walt Disney, the visionaries at Pixar, and with all of the big time animation wizards of the past century. This doc tells his saga, which is rife with turmoil, in vivid detail.
How did you learn about Floyd and why did you think it would make a good documentary?
ES: I first learned about Floyd Norman when I was introduced to him at the San Diego Comic Con by a friend that works for Disney. During our conversation I learned that Floyd was a Disney legend and he told amazing stories about working at Disney when Walt Disney was alive and years later working for Pixar. He was instantly likeable and a great storyteller with a rich history and life. I thought it would make for a great documentary.
MF: I had just finished producing another feature film and was looking for my next project. I'm always looking for new collaborators. A mutual collaborator connected me with Erik Sharkey. I cold called Erik in the winter of 2014 and asked him if there were any projects he was close to getting off the ground. He mentioned a couple things, but his pitch about Floyd Norman stuck with me. He told me about Floyd's storied career as the first black animator at Disney and extensive roles in the cartoon and comic worlds. It hit me like a bolt of lightning: Floyd is the "Forrest Gump" of the animation world.
With a little research, I realized no one had told Floyd's story yet through a film or documentary. This was shocking to me. Over two sit downs, Erik and I met and discussed the potential of a creative partnership. We both knew that Floyd was special.
Here is a man that overcame racism in a pre-Civil Rights America, but at 65 had to deal with an even bigger scourge that effects us all at some point: ageism. With his sharp mind and amazing drawing skills at the age of 78 (at the time we met Floyd), it was clear Mr. Norman could speak for those dealing with ageism and forced retirement.
Within a few days of Erik and my second sit down, I told Erik that we should get this movie off the ground immediately. I said we would keep the team small and nimble, with the two of us taking on a creative partnership. Believing wholeheartedly in Floyd's story, I put up the financing myself. After all, I'm a filmmaker and not interested in managing a Kickstarter campaign for endless months. Two weeks after our second meeting, I flew Erik and I out to LA where we filmed in Floyd and Adrienne Norman's home. The rest is history.
His Santa Barbara roots were very interesting to learn about. Does he still have much of a connection here?
ES: Floyd loves Santa Barbara. He always makes it clear that he had a great upbringing in Santa Barbera and felt he was able to pursue his creative talents there. It's also where he saw his first Disney film in the theater: Dumbo. That film would inspire him to go pursue a career at Disney later on. He often comes back to visit his home town because he loves it so much.
MF: During our time traveling and interviewing Floyd and his family, Santa Barbara was mentioned often. While raising his five kids, they would often take weekend trips up to Santa Barbara from Altadena. The family had their favorite taco shop and places to relax. For some time, Floyd had held on to his grandparents home in Santa Barbara, but at some point had to part with it. I know he mentioned a few times that he would love to still have that home in Santa Barbara. It's clear he has the fondest of memories here.

Is the general public interested about behind the scenes stories from Hollywood?
MF: Origin stories are always intriguing. Whether it is about someone in Hollywood, politics, business, etc. We all want to know how someone rose to the top and what mistakes may have been made along the way, amongst their successes. Our documentary is a love story, on many levels. I think that Floyd's love for his family, his craft, and his friends helped formed his path.
ES: I do think that people are interested in the behind the scenes stories from Hollywood in general because they want to know how films are made and the craft that goes into it. These days with social media, we get to see recent behind the scenes material a lot more. What makes Floyd's career so fascinating is that he started working for Disney in the '50s when it was much more of a mystery. He was the first African American artist to ever work for Disney. Even though Floyd is very humble about that I feel it gives him a unique perspective. Floyd also worked with Walt Disney himself. Not many people can say that they worked with Walt Disney, amongst the many other legendary craftsman Floyd worked with elsewhere throughout his storied career.
So the documentary is able to tell stories from a rich history of animation over many years that you don't often see or hear about. Which we think will be unique and really engaging for an audience interested in Hollywood and the art of animation.
Do you think he has any regrets in his career? Did he achieve most of his aspirations?

MF: I hate to speak for others, or theorize about their personal journey. Though I can share one quote of Floyd's from the documentary and let you interpret what you think it may mean to Floyd and his own view of his aspirations and achievement. In one interview Floyd said, "I'm a lucky guy. I've always had the opportunity to work with top talents. My only regret is I simply haven't BEEN a top talent."
ES: Floyd has worked on so many amazing projects over the years. You'll have to check out our documentary to see that he truly has seen and done it all. But if he has one regret I think it might be that he would like to direct an animated feature film of his own one day. He has never said that to me, but that's what I think. I personally would love to see that.
What is he up to these days? Still a Disney employee?
MF: I hate being coy, but come check out our documentary at the festival.
What is your next project?
MF: I'm constantly developing feature material through my company (www.MichaelFioreFilms.com), but in the immediate the plan is to return to commercial production for several months. Making this documentary has been amazing and rewarding, but it is all-consuming when you're shooting, editing, producing, etc. I had my hand in every aspect of production and post. It came at the right time, just when I needed to take on something purely creative. I have a feature suspense thriller that I produced coming out in 2016 called Keep Watching (Sony Screen Gems). It stars former Disney star Bella Thorne and Chandler Riggs of The Walking Dead.
ES: My first hope is that people see and love this film about Floyd Norman. As far as another documentary, there are so many talented artists out there that would make for a great film. So there's no shortage of interesting subjects out there. We shall see what opportunities present themselves next.