Briefs
Pilot Makes Emergency Landing After Engine Failure
Aircraft Glided to Goleta Slough's Edge; Pilot Walked Away with Minor Injuries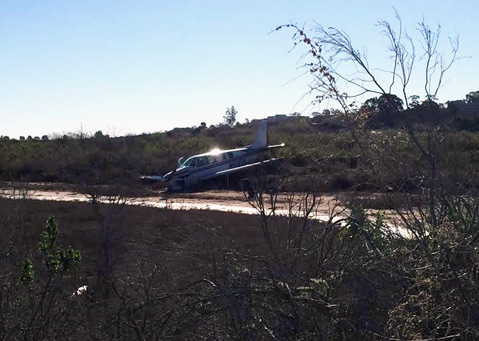 After his single-engine Beechcraft Bonanza lost power Monday evening mid-takeoff from the Santa Barbara Airport, an experienced male pilot from Goleta made an emergency landing near the Goleta Slough basin. Landing 60 feet south of the airport's westbound Taxiway A and east of Taxiway N, the six-seater aircraft came to rest on land with its nose facing the Santa Ynez Mountains.
The pilot, who prefers to remain anonymous, glided onto a brush-covered area at the edge of the slough at about 5:41 p.m. and walked away from the plane with minor lower-back pain, Airport Operations Manager Tracy Lincoln told reporters at a Tuesday morning press conference. The pilot was taken to Cottage Hospital. He was the plane's sole occupant. According to Lincoln, the plane experienced "complete power loss" at 300 feet above the airport's westbound Runway 25.
Before landing, the pilot made one quick radio call to aircraft controllers, saying he would not make it to the taxiway where they recommended he land, said Lincoln. First on scene was an Airport Patrol officer, who notified the National Transportation Safety Board (NTSB) at about 6:02 p.m. The airfield closed immediately after the accident, but was reopened at 6:14 p.m. without any flight delays. The Bonanza was secured for the evening, said Lincoln, and by 10:00 a.m. Tuesday city firefighters and workers from Big Red Crane Company had arrived on scene to move the plane from the slough's habitat restoration area.
He "pretty much nailed the only spot he'd be dry," said City Airport Planner Andrew Bermond at the press conference. After the pilot's safety, fuel — none of which has been found as the fuel storage remained intact — was Bermond's next concern. The Federal Aviation Administration (FAA) is investigating the crash, deemed an accident due to the engine failure.