Arts & Entertainment
Rappers Take the Stage
People Under The Stairs, Chaye Tione, and Eliquate Play Velvet Jones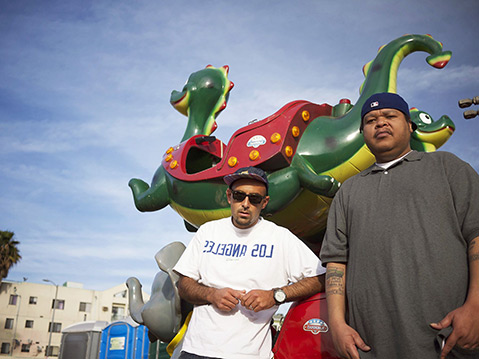 "I had to touch the future so I could hear the past," raps Thes One on People Under The Stairs' newest release, The Gettin' Off Stage, Step 1. The six-song set is the first of three EPs in the duo's next stage, and the ambiguous title hints at uncertain destinations ahead: Is this the beginning of a departure, or just the next step?
When they hit the Velvet Jones stage this Saturday, February 27, with Santa Barbara's own Chaye Tione and Santa Cruz's Eliquate, mindfulness and ass shaking will intermingle amid questions of change, place, and identity in what is sure to be an unforgettable moment in S.B. musical space-time. People Under the Stage (PUTS), Tione, and Eliquate all make music that's critically thinking, fiercely independent, and positively life-affirming, and the night will see one of West Coast hip-hop's most legendary acts team up with two up-and-coming inheritors of their kindred musical mission.
PUTS, in particular, have made their mark on the world with proudly Los Angeleno music that espouses good vibes, meditation, and inquiry over egoism or competitiveness. "We're just trying to make music for music's sake," said Thes One, aka Chris Portugal, in a phone interview, positioning the duo as something of an anti-Kanye in terms of self-regard. "We joke around that we're like the Blues Brothers — we're on a mission from God, but we don't necessarily believe in God. We try to take ourselves entirely out of the music and touch a bigger energy."
PUTS are at an uncertain point in their journey, he said. Having witnessed and transmitted shifts and rifts in politics, the music business, and more during 20 years, he and Double K are arriving at a spot of heavy reflection.
"We've toured through the Bush era, through Obama, through Clinton — we've been on the road through all this stuff, and you internalize the bigger issues," Thes One said — from the sweltering heat and rampant L.A. gun violence prevalent during the time of their first record to the frenzied politics and social-media-fueled dissolve of music-industry standards surrounding their most recent album. Through these changes, he said, the group has learned: "There's no guarantee of anything."
Eliquate, aka Elliot Wright, feels this deeply. In 2015, he slipped a disk while headbanging, and compressed and shattered his C5 vertebrae. He has self-declared 2016 the Year of Elliot, but admitted he doesn't always know who that is. "A lot of my mental space is occupied with who I am, really, and what is this thing we call life and consciousness. My lyrics are oftentimes a confession to my listeners that I don't have my shit together all the time," he said. He displays a level of lyrical vulnerability rare for rappers, who are more traditionally a self-confident or braggart set — The Cure's Robert Smith is a hero of his.
Tione, too, admitted being in a state of self-questioning but feels an optimism for what's ahead, and a comfort in the uncertainty of futures-to-be. "I'm casting the seeds for the future. I know if I keep a positive attitude, I can see it and it will come," said the Underground Hair Artists stylist, who is just beginning to shape his hip-hop destiny. He reminds himself he is part of a bigger connectivity between other artists, in a universe under constant construction. He's at his getting-on stage. Santa Barbara "makes people look at their plight and find the answer to those questions of: How do you find your path? How do you find that balance and appreciate the scenery, while still getting your work done?"
For PUTS, the meaning of the Getting Off Stage isn't just about the leaving but also how hard it is to do so. "It's both the thing that's keeping you alive and the thing that's killing you," Thes One said of music, adding the two have no plans to hang up the mike yet. And maybe there is no real end for he and Double K, who have, in their legacy, become cocreators and participants of something much bigger.
4.1.1
See PUTS, Chaye Tione, and Eliquate Saturday, February 27, at Velvet Jones (423 State St.). For more information, visit velvet-jones.com.