Arts & Entertainment
RIVVRS Washes Away the Shivers
S.F. Singer-Songwriter Shows Solo Strength at Blind Tiger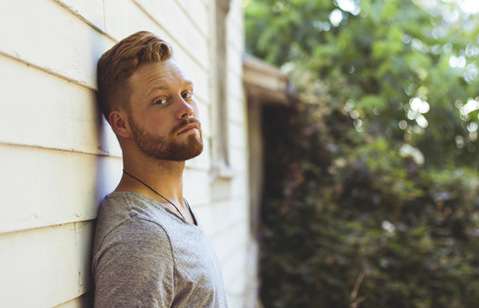 Hailing from San Francisco, the itinerant RIVVRS (pronounced "rivers") is a ways away from the securities of home, but his stage presence and vitality prove that he is a brave soul dead-set on establishing his niche in the big, wide music world — and if his recent Feb. 25 show at Blind Tiger is any hint, it's likely he will.
After spending time in Napa working in the wine industry and living out of his car for brief spells, he jump-started his music career by going all-in with it, focusing solely on his dream and keep moving forwards. This decision has resulted in RIVVRS spending the last nine months working exclusively on music full-time.
"I felt like I was living a double life for a minute, so I chose to take a dive and just go for it," says RIVVRS. "I've always wanted to do this."
His blind faith has paid off, as RIVVRS has already released a four-song EP, Hold On, and is scheduled to release his debut, full-length album Unfamiliar Skin on March 25th. RIVVRS is currently on tour to promote his upcoming album, heading back up the California coast next week after a show in Los Angeles.
In terms of style, he excels at performing solo with just a guitar to accompany his voice, but RIVVRS had no trouble playing along with opening acts the Brambles and Distant Cousins during the end of the latter's set Thursday night at Blind Tiger. His raspy voice is far stronger than you would expect it to be, sustaining itself during moments when you think he's about to break.
The most impressive part of his live performance, in addition to his voice, is RIVVRS' ability to occupy a large space with sparse arrangement. And his selective use of covers, like the Jackson 5's "I Want You Back" and Tommy James and the Shondells' "Crimson and Clover," show off his versatility in rearranging classic hits to suit his style.
His most recent single, "I Will Follow You," exemplifies his career decision perfectly, as RIVVRS sings about following his love — be it music or an actual person — no matter how far or how many obstacles pop up along the way. The song's mood and structure, though reminiscent of The Lumineers' "Ho Hey," allow it to stand on its own with a simple melody that lends itself to audience involvement.
During his performance at Blind Tiger, the definitive highlight was when he brought opening act Distant Cousins back onstage to perform "Can't Get It Right." The track was written collectively by all three artists and showed a sense of solidarity among musicians as RIVVRS had previously joined the "cousins" onstage to fill in for their ailing third member.
Although most of his songs work well with just a singer and a guitar, "Can't Get It Right" certainly sounded complete with a full band. The chorus, "I went down to the river / Washed away that westside shiver," encapsulates RIVVRS' decision to pursue his musical career without the fear of failure.
Thus far, he is comfortable and excited about being a full-time, touring musician. Like anyone committing fully to a new career, RIVVRS has had to make sacrifices to keep his dream alive, but he says it pays off now that he knows one bad show isn't going to be his ruin. Having successfully 'washed away the westside shiver', he is focused now on forging his own path without worrying about external perception or comparisons.
"Once you start comparing yourself to others, you lose your sense of self," says the young artist. "Pretty much everything in music has been done before, so when you have a song that's in [the key of] C, you have to know you're not trying to be the next Mozart."
Regardless of whom other musicians are trying to emulate, his attitude and confidence make it clear that RIVVRS simply wants to be the best version of himself.