Theater
'In the Next Room' Delivers Respectful Ribaldry
Strong Ensemble Performance and Eye to Detail Illuminate Ruhl's Play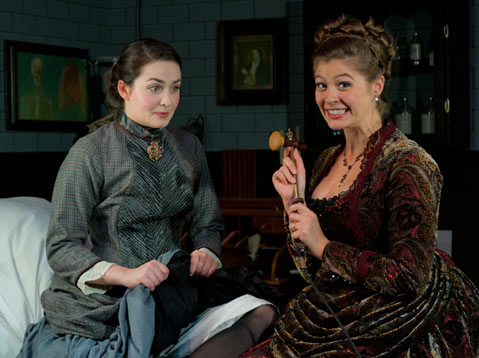 Attention to detail — it's the first thing you notice when you enter the Garvin Theatre to see the Theatre Group at SBCC's production of Sarah Ruhl's In the Next Room (or the vibrator play). From Patricia L. Frank's ornately detailed set, accentuated with anatomical diagrams and a piano, to the rich historical facts festooned throughout the program, the atmosphere is one of Victorian taste and restraint in tune with Ruhl's imaginings. The very good, very funny production that ensues continues this trend, carried by a strong cast that understands how the humor here translates through a bit of comic rein holding. It's a bit racy and ribald, but above all respectful and tempered, with winking eyes.
Director Rick Mokler keeps thinks moving smoothly as curiosities and passions intermingle on cold doctor's tables; the play, while quaint in its ways, never sags. The costumes, designed by Pamela Shaw, add to the enlivening, with beautiful folds and frills cascading down the Victorian dresses and shockingly modest undergarments dressing the dialogue with demure overtones. Leads Ellen Humphreys, as Catherine Givings, and Joshua Daniel Hershfield, as Dr. Givings, serve as the emotional lightning rods of the piece, with Humphreys's commanding comic chops interplaying well with Hershfield's more serious, dry tactics. Hers was perhaps the most energized and heartening performance of the night, while he delivered plenty of laughs through his mannered administration of medical vibrations.
But equally strong were their counterparts, and it was truly an ensemble effort. Addison Clarke was a welcome recurring presence as repeat patient Mrs. Daldry, making hilarious most of her climactic moans. Blake Benlan, as Leo, and Paul Canter, as Mr. Daldry, suffuse their roles with dignified oomph, and Tiffany Story's Annie and Danah Williams's Elizabeth add a sweet and tranquil note to the giggly proceedings.
A Friday-night opening performance could have used a tad more of an energy jolt, but overall, In the Next Room is one of the stronger SBCC efforts of late. The comedy is delivered nimbly, intelligently, and kindly, with delightful effect.
4•1•1
In the Next Room, or the vibrator play, plays at SBCC's Garvin Theatre March 10-14 and 17-19. For more information, call (805) 965-5935 or see theatergroupsbcc.com.