Arts & Entertainment
Loreena McKennitt Plays the Lobero
Celtic Siren Stops in S.B. on First Tour in a Decade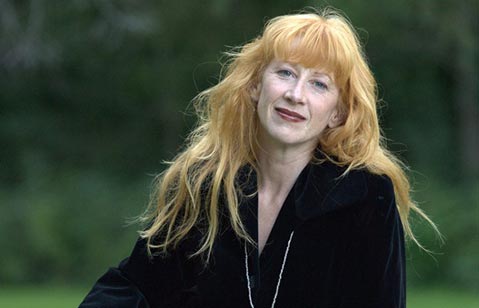 The last time Loreena McKennitt swung through the West Coast in 2007, I caught her show in San Diego, and it was pretty much soul-restorative: Her warm, crystalline soprano was in fine form, soaring over a thick welter of world-music instrumentation. Her band layered on the riffs, chord changes, and solo fills into slow-build mini-epics of hypnotic pagan celebration like "All Souls Night" or "The Mummers' Dance," or, as in "The Old Ways" and "Never-Ending Road," McKennitt's voice cradled the yearning pathos of those songs until they yielded up the deep, pure Irish melancholy that is her music's hallmark. As the applause subsided after one song, the audience waited, hushed, and McKennitt moved from harp to piano to start something new. And then some guy in the audience — I'm guessing he was in his thirties — with timing any comic would envy, called out: "Will you be my mom?" 
The audience broke up. McKennitt laughed, too, but she seemed embarrassed and didn't know what to say — maybe because the fellow was onto something. McKennitt comes across on albums, in performance, in her thoughtful liner notes, and in interviews as an unfailingly responsible and caring human being. Her music is all about sympathy and tolerance, and an inclusiveness that's just as eager to mix instruments and styles from vastly different musical traditions as it is to mix different spiritual beliefs. She loves the land, has great empathy for suffering, and worries deeply that the first world is hurling itself mindlessly into hyper-technology; yet she's as open to fun as she is to seriousness, and clearly loves literature (she's put poems by Shakespeare, Yeats, St. John of the Cross, and Tennyson to music, often making them more beautiful than they already are). Without getting sentimental, and without pulling punches about how tragic life can get, her music has that strong maternal quality that feels like living proof that pain and struggle can be redeemed by an understanding tenderness.
Her current tour, which stops at the Lobero Theatre on March 15 after shows in Texas, Arizona, and L.A., utilizes a stripped-down version of the ensemble she's been working with for the last couple of decades. Instead of hurdy-gurdies, ouds, loads of percussion, and lush synthesizers from a dozen players, McKennitt is restricting the show to herself on harp and piano, Caroline Lavelle on a passionate cello, and the versatile Brian Hughes on guitars. "People were writing in," she explained during an interview one afternoon before her show in Austin, "saying they missed some of the simpler arrangements. And, of course, the pragmatic reason was that we hadn't toured here since 2007 and I wasn't sure how many people were still on board." She needn't have worried — nine shows on this current tour have already sold out — but touring with three players changes things. "Certainly," she agreed. "It lets me speak a bit more and share some of the research and the travels behind the songs and lets me share some of the crazy episodes and antics that have happened to me. And it allows for more intimacy."
McKennitt may need the intimacy of a trio because this show is thematically focused on her Celtic roots, which have taken her well beyond Irish music to the culture and music of ancient and medieval Celtic outposts in Spain, Italy, Turkey, even China. In between renditions of gorgeous folk classics and soaring originals, she confides in the audience, pointing out the contemporary relevance of 200-year-old songs about beautiful trees mowed down for profit ("Bonny Portmore") or century-old poems about children's lives stolen by a world "more full of weeping than [they] can understand" (W.B. Yeats's "The Stolen Child") — our current troubles, McKennitt said emphatically, coming from the "connection technologies" so many of our children are now addicted to.
McKennitt's shows are part history lesson, part comic travelogue, part plea to "reacquaint ourselves with the fundamentals," she said, of what it means to live on the planet. And a fair summation of a 30-year career of music of astonishing beauty.
4.1.1
Loreena McKennitt performs Tuesday, March 15, at 7:30 p.m. at the Lobero Theatre (33 E. Canon Perdido St.). For tickets, call (805) 963-0761 or see lobero.com.