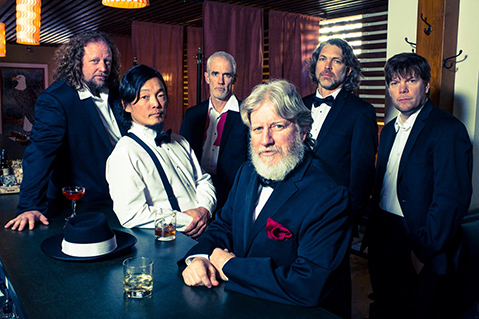 In 1993, Colorado ski town Crested Butte was blessed with the inception of The String Cheese Incident, a rock band meddling in funk, electronica, bluegrass, and you name it. While each musician plays multiple instruments — from electric mandolin to lap steel guitar to accordion — their musical roots remain constant, as well as their annual Colorado New Year's Eve bash at 1stBank Center with a full 3D production. Keith Moseley shared with me via phone the band's history, experiences, what the people of Santa Barbara can expect, and maybe the mystery behind the band's name.

Where did the band name come from?
Ah, that's all top secret.
What about your tour name, March Madness 2016?
The time of year just tied in with our appreciation for basketball.
Your music is a concoction of genres.
What would you say is the original root of the band? We started off playing a combination of acoustic music and rock. Some of the early influences were David Grisman, the Allman Brothers Band, Sam Bush — they all play a part in what we do today. Obviously it's expanded outwards since.
Do you have a preferred music genre?
I enjoy all. The variety of what we do is what makes the band unique. We might play an acoustic bluegrass number followed by an electronic dance number fully programmed with beats followed by a funk tune with Latin overtones. Jason Hann [who joined as the percussionist in 2006] does all the programming. He's a dual threat for the band — super savvy at computer programming and accomplished at hand drumming. We really do cover a lot of ground musically, and that keeps it interesting.
Any favorite instruments?
Hmm … I'll usually play the bass the entire show. But Billy [Nershi] will switch between electric and acoustic guitar; Michael [Kang] will switch between the electronic mandolin, violin, and the electric violin; Kyle [Hollingsworth] has a whole range of keyboards, including a synthesizer. There are a lot of changes in instruments, too many to choose from.
Do you have a favorite artist with whom you've collaborated?
They're all really different! The collaboration with Zac Brown was really awesome. Last fall we collaborated with the Doobie Brothers, who's been a favorite of mine forever. We [worked] with Skrillex, which is at the other end of the spectrum. We've also played with some bluegrass legends such as Peter Rowan, Bob Weir, and the guys from the [Grateful] Dead. It's hard to choose just one.
You guys have a crazy stage production. What does the typical concert look like, and what can Santa Barbara expect? Oh, man. We do our best to put on a first-rate show. No two shows are the same. We're drawing from a repertoire of hundreds of songs. We'll be playing a lot of the newest material because that's what's fun for us right now, but it'll be mixed with old and new covers and back catalogs. Also, we love Santa Barbara — it's home to one of my favorite bands, Animal Liberation Orchestra.

What's changed from 20 years ago creatively? As far as the band is concerned, we're writing our best tunes. We're playing and sounding better than we ever have. It's exciting to feel that the band is better than it's ever been!
4·1·1
The String Cheese Incident plays Sunday, March 13, 7 p.m., at the Arlington Theatre, 1317 State Street. Call (805) 963-4408 or visit thearlingtontheatre.com.