Living
Game of Life Challenge Winding Down
Notes on Nutrition, Meditation, Body Maintenance, and More from Gravitas Fitness Program
As the Game of Life challenge comes to close this weekend, nearly 40 participants have been checking off personal health and wellness goals — some simple, others tough. Coming out of the five-work program, they're also better equipped to sustain any of the good habits they've been curating along the way, thanks in part to a series of one-hour workshops hosted by Gravitas Fitness. Here are the Cliffs Notes:
Nutrition by Eric Malzone, cofounder Gravitas Fitness: Malzone is not a licensed nutritionist. However, after years of study and experimenting on himself, he's emerged from the trenches of nutritional knowledge with a few helpful pointers.
Start off with fresh ingredients, he said, and try to find out where they come from by reading labels, asking grocers, and striking up conversations at the farmers market. Whenever possible, prepare your own meals. Then sit down without distractions (magazines, phones, computers, TV) to enjoy 15 simple minutes of what's called primary eating — really focusing on the food in front of you, how it smells and tastes, its colors and textures. Chew your food. Put down your fork between bites.
Breaking it down further, Malzone recommends packing your plate with vibrant vegetables and a protein centerpiece. "Magical things happen with you get more protein," he said. Also, he added, start phasing out foods that make you feel bloated, lethargic, achy, or any of the other disagreeable symptoms of chronic inflammation. Refined sugars, alcohol, and highly processed foods are prime suspects.
Cooking by Kelsey Bray, chef at Paleo Caters: Kelsey Bray walked Game of Lifers through a handful of simple healthy recipes, from homemade tomato sauce (in bulk) to slow-cooked beef short ribs with cauliflower rice. For the fitness fanatics in the room, she recommended replacing sugar-laden sports drinks with this quick electrolyte blender concoction:
2 cups chilled watermelon
2 cups chilled coconut water
Juice of one lime
Pinch or two of salt
Optional fresh mint and 2 tablespoons of coconut oil
Meditation by Heather Tiddens, yoga instructor: Meditation is harder than it looks. Minds tend to wander, especially when their bodies are sitting very still in a comfortable, quiet place.
Fortunately, meditation can be practiced almost anytime and in any emotional or physical state. Doesn't matter if you're angry or tired or if the gym isn't open. Just take a seat, close your eyes (or not), and simply focus on your breathing. When you're mind wanders, bring it back to the breath.
"You can't do it wrong," said Tiddens. "But you have to do it. You have to make space for it." With practice, she added, meditation helps bring space to moments of high stress — as they rise up inside you, crest, and then disappear.
See www.heathertiddensyoga.com.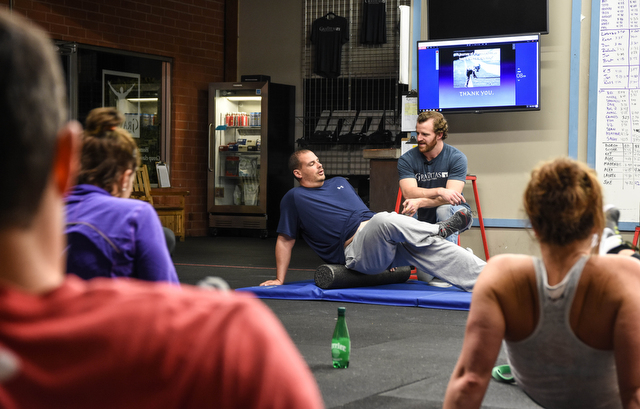 Body Maintenance by Jeff Baker, coach/trainer: If sitting is the new smoking, as they say, I'm sitting a pack a day. Could be worse. But still, not good.
And presently, more than two decades deep into a career that requires tons of quality time hunched over a keyboard — my craned neck slowly petrifying, my folded knees and hips losing range like rusting hinges — I notice daily that too much ass-in-chair time (like right now, for instance) is stealing from my ability to keep up with my speedy young children. What's a middle-aged parent to do?
Well, for one, according to body maintenance mastermind Jeff Baker, I can invest in what's known in fitness circles as a foam roll, a stiff yet semi-forgiving cylinder about the length and diameter of a skinny log. Then, I can lay down on it in various positions and — using the weight and slow back-and-forth roll of my body — let it work through knotted muscles and straighten out habitual bad posture.
As a class, we used foam rolls to opened up thoracic hunch, gain some reach with pressure on our lats, and work out sinister knots deep in the body's biggest muscle group, the gluteus maximus. Baker also showed us a thigh and hip stretch that can be performed against a couch (in front of the television, if necessary). Combined, these four stretches can not only help counter the poor posture of our daily lives but also give stability and technique to proper exercise regimes.