Real Estate
Profiles in Design: Jeff Shelton
Whimsical Architect's Vibrant Style Marks Santa Barbara Architecture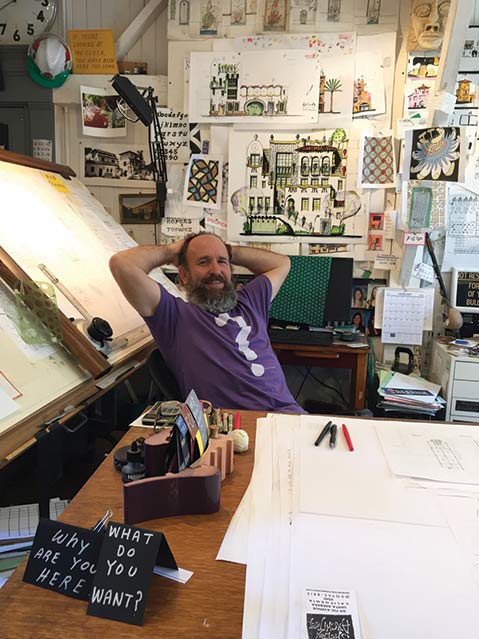 Studio: 519 Fig Avenue, jeffsheltonarchitect.com
Specialties: Architecture, Interior Design, Tiles, Furniture
Notable Projects: Ablitt Tower, El Jardín, El Andaluz condo complex, Vera Cruz house, Cota Street Studios, Oak Tree House, Casa Blanca Restaurant
There is a distinct possibility that Jeff Shelton is the coolest guy on the Santa Barbara architectural scene. Anyone who has seen his unmistakable work — which has been described as Gaudí meets Dr. Seuss — scattered throughout downtown can probably guess his vibrant creativity and warm professional character.
Shelton's iconic green Vera Cruz house on lower Santa Barbara Street is covered in cement board paintings that were commissioned from as many as 150 area professional and amateur artists, one as young as 6 years old. "It's spectacular what some people came up with," says Shelton. "Each painting has a story behind it."
The vision for Vera Cruz came to Shelton by his deeply personal association with the Sanford Darling home near Santa Barbara City College that was torn down in the early '70s after being featured in Life magazine's eccentricities section.
"As a little kid, we would pilgrimage [to] that; it was holy," says Shelton. After his wife's death, Darling occupied his later years covering every inch of his house with personal paintings of all the places he had visited and loved. "There were Mount Fujis everywhere," says Shelton. "He must have had a great time in Japan." A commemorative painting of Mount Fuji can be seen on Vera Cruz.
Shelton's success in town with unusual designs is a bit surprising. Architects and designers who have attempted daring design plans, or, really any construction at all, in Santa Barbara have faced the edicts of local planning laws. But Shelton's relaxed attitude has no finitudes. "It's a lot of hard work and a lot of issues," he says of his commitment to producing his colorful, curvy designs. "I let the rules come in, and then I just go."
Still, Shelton anticipates that first moment of a project when all the possibilities still lay beneath his pencil. "My goal is [to be in] this area with a blank piece of paper. That is paradise," he explains from his perfectly cluttered desk. Shelton's office space has recognizable elements of his life's work, which include tile illustrations, collected travel inspiration, and a large model of his Ablitt Tower that his daughter converted into an impressive dollhouse many years ago. The office itself is situated in a converted wooden carriage house where its 1930s owner, a Mr. Varney, carved the filigree of flowers and cherubs.
Shelton is currently finishing the building next to Art From Scrap, which he fondly calls "El Zapato" because he says it looks like a shoe. The client had stayed in his Ablitt Tower while on vacation and then decided to move here from Maine so she could commission a Shelton architectural piece of her own. "If you go to our jobsite, you can see the delight," he says. "I've had owners not wanting the job to end."
Shelton credits his collaborators for much of his successful work. "When you walk by, you feel the people in this town that invested in the building. You just get this feeling like someone thought about it," he says. "You may not like it. You may think it's garish or that it's too far — that's fine. But there was not one detail we missed."
Visit jeffsheltonarchitect.com to download a free walking-tour poster of his downtown work.