Make Myself at Home
Make Myself at Home: Hope Ranch Hacienda
A Look Inside This Authentic Adobe Estate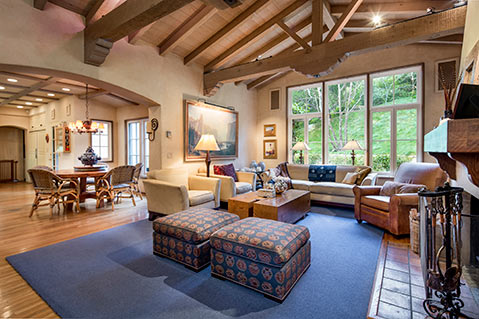 Address: 929 Cañon Road
Status: On the market
Price: $4,750,000
I love to travel. Some of my favorite cities share a common theme: They have specific neighborhoods with unique flavors. Boston, San Francisco, New Orleans, and New York City all have boroughs or districts with personalities so strong and distinct that they can stand on their own. Yet these neighborhoods meld together to create a varied fabric that's a living, breathing, bustling sum far greater than the separate parts.
Closer to home, I was struck with a similar sense when I visited the beautiful estate at 929 Cañon Drive in Hope Ranch. I fell in love with so many specific parts of this home that I wanted to savor each one separately. Yet taken all together, they combine to create a magical entity: a comfortable, welcoming house that feels like home.
The house is an authentic, elegant adobe hacienda, designed by architect A.B. Harmer and built in 1928. I was charmed before I even stepped foot inside, thanks to the terraced yard with its sandstone pool, central courtyard with lush plantings, mature oak trees, and a tiered fountain. The courtyard provides a perfect introduction to the house itself, which surrounds the yard in a horseshoe shape, with its arms extended, inviting us to enter.
Inside, I was struck immediately with a warm, relaxed feel. This is not an opulent mansion to be tiptoed through. This is a house that wants its visitors to be comfortable and stay awhile. The materials are natural: Saltillo tile and hardwood cover the floors, the walls are thick and hand-hewn, and the ceilings boast bold wood beams. These solid architectural details continue throughout the house.
The master bedroom suite is one of the areas that took my breath away. More specifically, the terrace off the master bedroom suite took my breath away. I took one step onto this patio, which overlooks the pool within a walled garden, and the mountain view beyond, and I didn't care what else the house had to offer. I wanted to stay right there. Forever.
I was similarly hypnotized by the master bath, which offers a wall of windows looking out onto an enclosed, secret garden. Right underneath is a luxurious tiled corner surrounding a huge sunken tub that just begs you to step in, gaze up at the sky, and soak your cares away.
I'm not sure whether it's the views, which are striking and unobstructed from every single room, or the rooms themselves, but a feeling of calm, serene relaxation permeates this entire home. At three bedrooms and five baths and more than 4,000 square feet, it's a large house, but somehow it still manages to feel cozy.
The kitchen is another room that made me exclaim, out loud, that I would spend all my time there. And I hardly even cook. Its generous counter space and huge center island invite friends and family to congregate. The adjacent dining room looks onto a lush wall of greenery that seems designed to soothe.
The living room also feels like a natural gathering place. It's a party room, with French doors and gorgeous views that bring the outside in and encourages the flow from inside to out. A family room down the hall has the same qualities, on a smaller scale. I would be happy living in either of those rooms on their own. Two more bedroom suites grace the main house and exude the same serene charm
As if all of this wasn't enough, out the back door and across a courtyard sits a separate media building. With state-of-the-art sound proofing, lighting, and technical equipment, these 1,500 square feet offer the ultimate home theater experience. Downstairs is a climate-controlled wine cellar capable of holding 2,000 bottles plus additional storage rooms. With a full bath and efficiency kitchen, this special space could be turned into anyone's dream room.
As I mentioned before, I love to travel, but one of my favorite things about traveling is arriving back home from an adventure, exhausted, enlightened, and ready to unwind. This beautiful Hope Ranch estate would be difficult to leave even for a short while. But if you could tear yourself away, it would provide the ultimate serene haven to come home to — no matter which room you decided to relax in first.
929 Cañon Road is currently for sale in Hope Ranch, listed by the Grubb Campbell Group of Village Properties Realtors. Reach the Grubb Campbell Group at 895-6226 or grubbcampbell@villagesite.com.