Theater
Theater League Presents 'Ragtime'
Tony Award–Winning Musical Remains a Potent Social Commentary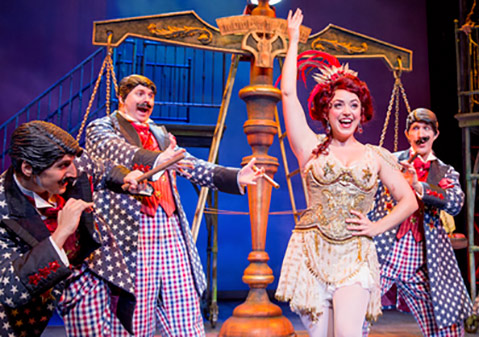 In a production that recalls the glorified yet chaotic and violent era of New York's history at the turn of the 20th century, Theater League presents Ragtime. This Tony Award–winning musical provides a rousing and poignant account of race relations and immigration, as well as the sparks of burgeoning feminism in the early 1900s. With an exhilarating musical score and subject matter that's relentlessly reminiscent of modern issues, it's no surprise that Ragtime, which comes to the Granada stage for a limited run on March 29-30, is a musical that has endured in popularity since its 1996 world premiere in Toronto.
Based on the 1975 novel by E.L. Doctorow, Ragtime (book by Terrence McNally, lyrics by Lynn Ahrens, music by Stephen Flaherty) is a story of America's — and especially New York City's — early days of multicultural mishmash. Ragtime shows the plight of European immigrants arriving in America, many of whom had little or nothing with which to start a new life, represented by Tateh (Matthew Curiano), a Jewish artist who emigrates from Latvia with his daughter; the persistent demand for civil rights and equality for the African-American population, represented by the mistreatment and subsequent activism of Harlem ragtime pianist Coalhouse Walker Jr. (Chris Sams); and the crumbling barrier between these minority cultures and the social bubble of wealthy, white society.
Actress Kate Turner plays Mother, the matriarch of the featured upper-class family from New Rochelle. Turner refers to her character as an "accidental feminist": She begins the play as a proper example of an obedient Victorian housewife, but when her husband leaves her in charge of the family at home while he's on an expedition to the North Pole, Mother finds herself in the unnerving but empowering position to make bold choices about the family's lifestyle. Turner explained that Mother's awakening is about "finding her own moral compass, without having her husband connected to her decisions." Turner said she brings the potency of experience to her role: Growing up with a handful of brothers, she learned early how essential strength and confidence were to being seen as an equal in a male-dominated household.
Ragtime presents a picture of social struggle that mirrors current-day cultural clashes. Incidents such as Coalhouse Walker and Sarah (Leslie Jackson) being harassed and abused by the police or Father's (Troy Bruchwalski) punishing indictment of the waves of incoming immigrants will certainly remind audiences to consider how little modern society has changed in the last century. It's these moments of verisimilitude, said Turner, that give the play credibility. As one of the more prominent female characters in the play, Mother's developing independence from male-centric Victorian values is an important transformation — one that highlights both the period of the piece as well as the piece's progressive viewpoints.
Theater League's production of Ragtime is directed and choreographed by Marcia Milgrom Dodge, who likewise directed and choreographed the award-winning 2010 Broadway revival of the show. With nods throughout the narrative to American celebrities of the era, such as Harry Houdini, Evelyn Nesbit, Booker T. Washington, and Henry Ford, Ragtime features stories pulled from turn-of-the-century headlines yet maintains a modern sensibility. Ragtime is a commanding story of hope for a better future at the dawn of the new century.
4.1.1:
Theater League Presents Ragtime, Tuesday-Wednesday, March 29-30, at the Granada Theatre (1214 State St.). For tickets, call (805) 899-2222 or see granadasb.org.