Dance
Grupo Corpo Celebrates 40 Years
Brazil's Leading Contemporary Dance Company Takes the Granada Stage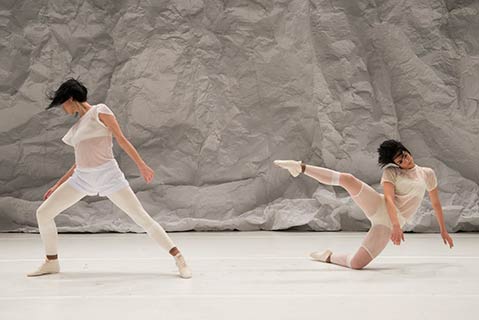 The UCSB Arts & Lectures series consistently offers a diverse lineup of performers who bring various artistic landscapes from all over the world to Santa Barbara. On April 2, A&L presents Grupo Corpo, Brazil's leading contemporary dance company. The troupe takes the Granada stage for a 40th-anniversary celebration of its signature hybrid dance style, which merges ballet and contemporary Afro-Brazilian movement traditions for a vital and unique experience of dance.
Grupo Corpo features the choreography of Rodrigo Pederneiras, who describes the foundation of his dance style as deeply rooted in classic ballet techniques but embellished and reimagined using popular and social Afro-Brazilian dance and musical elements. This melding of styles creates a new language of movement that transforms both original dance forms into something fresh, colorful, and exciting. The work of Grupo Corpo has been described as sensual and inventive, and their staged productions, including sets and costumes, are a dazzling example of the lively and diverse elements of Brazilian culture.
Grupo Corpo features dancers who have been trained in a variety of performance techniques. Pederneiras, whose work combines the rigorous precision of ballet with the rhythms and lively appeal of modern styles, collaborates with the dancers when devising each piece. This collaborative manner of production allows Pederneiras to incorporate each dancer's strongest abilities into the work to showcase the best that each performer has to offer. This cooperative relationship also maintains Grupo Corpo's wide variety of influences, from the contemporary dances of urban Brazil to the folk-inspired dance styles of the country's cultural history. In a recent interview with The Indy, Pederneiras emphasized the importance of partnership in his work and acknowledged that in the 40 years of Grupo Corpo's existence, collaborative efforts have always been a priority. "The creative core of the company," Pederneiras explained, "is me, my brother, Paulo Pederneiras (artistic director and lighting/set designer), and Freusa Zechmeister (costume designer). We have worked together in almost all of the troupe's pieces."
In four decades, Grupo Corpo has experienced several phases of growth and development. Rodrigo Pederneiras became involved as the troupe's resident choreographer in the late 1980s. His vision provided a shift in the company's movement language as they began to integrate the vibrant styles of popular, contemporary, and classic Brazilian dancing with ballet traditions. "The choreography," he said, "is the expression of our story, with references to our choreographic universe and the people who participate in it."
This special anniversary performance features two works: "Suíte Branca" (choreographed by Cassi Abranches) and "Dança Sinfônica" (choreography by Pederneiras). "In "Suíte Branca," Cassi, who was a dancer with the group for more than a decade before beginning to choreograph her own pieces, uses her experience as a basis for creating her own language," Pederneiras said. "In our works, neither Cassi nor I develop narratives; rather, we try to evoke feelings and emotions through our dance. Our main goal is to touch, to move, and to captivate the audience." Both featured pieces, like all of Grupo Corpo's work, are accompanied by music composed specifically for the choreography. Pederneiras described the music as being in the pop/rock style, with a particular swing and groove.
"I'm very lucky to work with people I trust," Pederneiras acknowledged. "My time is spent exclusively on artistic matters, and that's a privilege. Choreographing is an artistic endeavour that involves both solitude and direct contact with people, and I really love that combination."
4·1·1
UCSB Arts & Lectures presents Grupo Corpo Saturday, April 2, at 8 p.m. at the Granada Theatre (1214 State St.). Call (805) 893-3535 or see artsandlectures.sa.ucsb.edu.