Positively State Street
Enjoying the Rites of Spring on State St.
Funzone Brings Briana Marela; Velvet Jones Welcomes Freddie Gibbs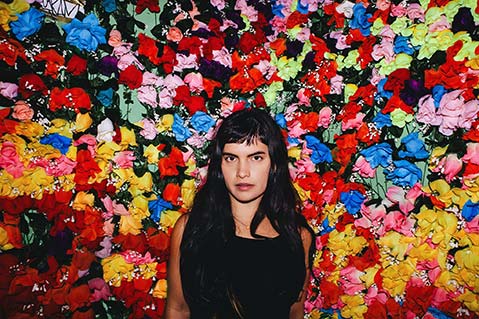 SPRING SPRANG SPRUNG: What an active season we find ourselves in, so vitalizing and freeing. And fleeting though the flowers are, there feels something permanent about a spring every time it hits, as it strikes a resplendent chord of singing beauty so strong that other seasons seem imitative of these immortal moments. And spring, I'd say, is the spirit season of so many songs. Like the outdoors' continual house band of birds, frogs, and insects, we are all musicians and listeners, heralding springs and springs-to-be, be we folkies, indie rockers, hip-hoppers, EDM dancers, or classically inclined.  
POTLUCK POWER: This month starts with a wildflower carpet of delightful all-ages shows. Tonight, Thursday, April 7, the folks at the Funzone present a Potluck Show at I.V.'s Dashain Haus, featuring Washington's Briana Marela, Lilac, Ings, Philadelphia's Cricket Joe, and Santa Barbara's very own Katie Murray, a spring baby herself. So bring your own food and some kindness to spare as the giving spirit of spring makes itself felt in this fine feast of folk and feminine wisdom. Marela's music is perfect for the times, day-dreamy, drifting, whisperingly quiet compositions that coo and croon like a rippling sea of crocuses.
THIRD EYE TIME: Seven being a lucky number, the seventh day of April is also the first Thursday of the month, and a day of many shows. While the Funzone fosters the new growth of spring in its celebration of new acts, other venues announce the returning of some flowers you thought were dormant. The Arlington Theatre, for example, welcomes to town the folks of Third Eye Blind, who play tonight, as well. Few bands remind this '90s child of fountaining youth as do Third Eye Blind, whose hits like "Semi-Charmed Life" and "Never Let You Go" can put an intelligently and earnestly rocking pep into any step. The band's newest album, 2015's Dopamine, shows singer Stephan Jenkins continuing to further his skills for catchy hooks and literate, heartfelt lyrics.
ELSEWHERE ON STATE ST.:  And if neither vernal folk nor Bay Area pop-rock appeal on this seventh day of April, then no need to worry. Velvet Jones brings us Freddie Gibbs, one of the biggest and best voices in hip-hop to hail from the Midwest. Life's a little bleaker on the streets of Gary, Indiana, but Gibbs, in his music, demonstrates the great musical magic of rendering darkness to light, turning tales of gang violence and police brutality into gripping tracks. At Benchmark Eatery, sailor/singer David Courtenay sings in the wake of his recent album, Godspeed. Perhaps he has been out to the islands recently and can tell us how great and green they look after the brief El Niño rains, as I imagine they do. And at SOhO Restaurant & Music Club, Ventura's Jade Hendrix joins a multitiered lineup that also includes the perennial DJ Darla Bea.

JUST ANOTHER NIGHT OF TERROR AND METH:  The next day, Friday, April 8, the Funzone continues with a jolt of energy from Terror Pigeon and Meth Dad. Tennessee's Terror Pigeon, self-advertised as "the world's sweatiest band," certainly isn't terrified of taking risks or having fun. They are hard-rocking and sly-devilishly devious, with a website of raining emojis, bright colors, and a link to review them on Yelp. Meth Dad, similarly, is all about the goofy visuals, like a tropical Santa riding a joyfully spouting dolphin. The music to accompany such Internet kitsch tropicalia is rhythmic and harmonic, not unlike if Animal Collective were a digital band on a digital beach in Mario Kart 64.