Theater
Preview: SBCC's Powerful 'Proof'
Jurkowitz Theatre Stages Pulitzer Prize-Winning Play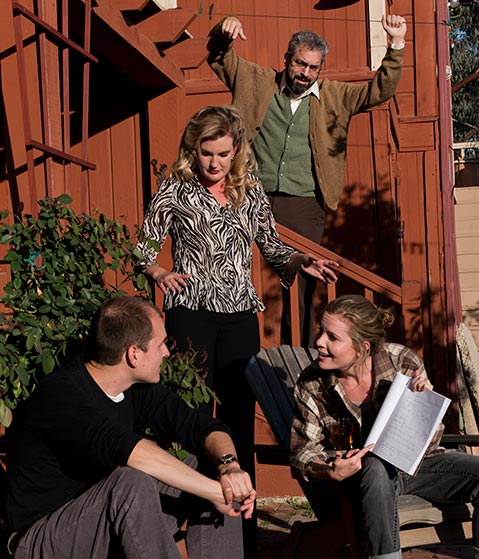 If the biggest theater awards in the world are any indicator, then you need no further proof that David Auburn's Pulitzer Prize– and Tony Award–winning play Proof is worth a watch. But SBCC's upcoming production of the drama, which runs at the Jurkowitz Theatre April 15-30, isn't just a case of picking a previously proven success. Steeped in themes of mental illness, gender, family, and academia, it's a prescient play, one that addresses and illuminates serious themes of contemporary times in an environment where these topics are often most pressing.
Director R. Michael Gros first saw the play in its original run on Broadway and was "stunned by the power of the storytelling," he said. A family drama centering on a young mathematician named Catherine (played by Katherine Bottoms), the daughter of a recently deceased math genius (played by Paul Canter), Proof tells the story of one woman's struggles with grief, family, competitive academia, and the sensitivities and fragilities of pronounced intelligence. Catherine's future success — and sanity — are challenged or questioned by her absent sister Claire (Amanda Gustafsson) and her father's protégé Hal (Alex Coleman).
The theme of genius versus mental illness in particular is one that Gros sees as relevant to SBCC, as the onset of mental illness often begins in the early twenties. As Gros wrote in the director's notes, 25 percent of Americans suffer from some diagnosable mental disorder each year, and mental illness affects approximately 6 percent of the population.
"I want people to think of mental health in a more positive way — to come away thinking that if there is a mental-health issue in their family or friends, to not be afraid to take a positive action and that we should not be afraid to seek out help," Gros said. Gros added he hopes his production inspires his audience to recognize the humanity and commonality in those who may be afflicted with mental illness, which is often framed as abnormal. "We often shun the discussion … There are people who are extraordinarily talented and yet have another aspect to their mental health that is diminished compared to what we consider normal, but they're not aberrant."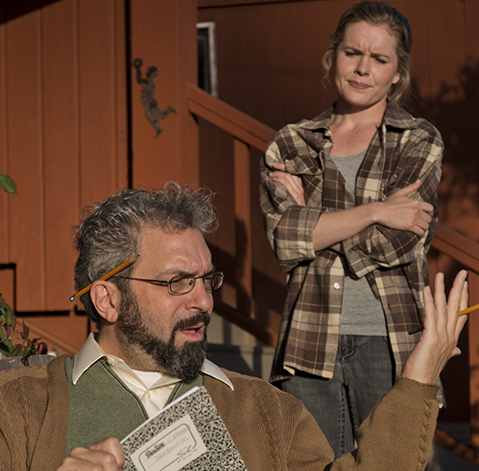 For the cast, finding the underlying relatable qualities in a sometimes unsavory or overly self-interested host of characters was one of the bigger challenges. "There's suspicion and drama throughout, and really at the end of the play, you realize these are all people with good intentions, and each one of them is trying to do the right things always," he said.
In addition to mental illness, the play deals with the emotional gray areas between thought and feeling, between intellect and intuition, between acceptance and expectation. "There's a theme of love versus evidence, instances between the characters when they try and connect but the obstacle is some kind of logical barrier that they can't quite surpass," Coleman said. The play's many emotional turbulences add up to a masterful drama. "It's a steady rollercoaster," said Bottoms.
Proof was developed organically, with the blocking guided by actor improvisation. "It's a very natural play; it's supposed to be very real," Gustafsson said. While the theatrically inclined cast admits it was a bit unfamiliar to play the part of mathematical geniuses, Gros provided an aide by bringing in a retired math professor to speak at one of the rehearsals.
With family being such a strong theme, Gros hopes families in the audience find in the material inspiration to bond and heal with compassion. "We need to stop trying to change people for who they are, and to accept people as they are and love them as they are and support them in whatever way is best," he said.  
4·1·1
mmm Proof plays April 15-30, Wednesdays-Fridays at 7:30 p.m., Saturdays at 2 and 7:30 p.m., and Sundays at 2 p.m., at SBCC's Jurkowitz Theatre (721 Cliff Dr.). For tickets and more information, call (805) 965-5935 or visit theatergroupsbcc.com.