Positively State Street
Shows to Know This Week
Unknown Mortal Orchestra, Eleanor Murray, The Mother Hips, and More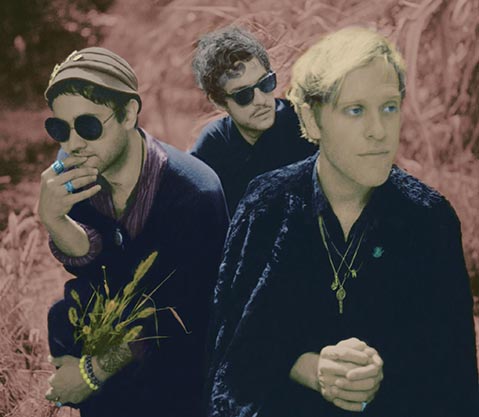 INTO THE UNKNOWN: The day after this issue comes out is April 15, a day living in infamy: Tax Day, Titanic sinking. While we may memorialize the bad or taxing times, few mark the moments just prior. We commemorate the storm, not the calm, and forget how innocent or ignorant we were yesterday before the turning of today. Why not celebrate, for a second, our unknowing?
It is under these vague terms that I announce the arrival of Unknown Mortal Orchestra, who plays tonight, Thursday, April 14, at an already-sold-out SOhO show. Hailing from New Zealand and America both, the band, helmed by founder Ruban Nielson, likes to conjoin synthetic styles with R&B and soul grooves into new and unexpected formations. Their music has been described as "kaleidoscopic," and their new music video, "Multi-Love," fits the label. With its rainbow colorations and lyrics about the polychromatic shifts in hearts and minds that fall together in multi-person love dynamics, it's music of many hues. What better psychedelic headspace is there to get caught up in and, for once, forget about the unknowns of tomorrow than within the music of Unknown Mortal Orchestra today?

WEST COAST, BEST COAST: Meanwhile, also tonight, the Funzone hosts a string of West Coasters, with a lineup nicely descending along the coast in north-to-south order. At the top of the poster is Eleanor Murray from Olympia, Washington; in the middle, Portland's Johanna Warren; and at the graphical and geographic bottom, S.B.'s Cave Babies. Besides being all West Coasters, all three, more importantly, are linked by their craft for sensitive, honest, soul-searching acoustic folk. I hope they're wearing long sleeves, because their openly heartfelt music is the definition thereof, and there's a lot of heart within. Go, but maybe bring some tissues — your eyes may experience their own personal El Niño in this waning rain year.
ROCK-SOLID ROCK: Back at SOhO, on Friday, April 15, Cubensis and Moonalice revive the Deadhead generation once again with Cubensis' Grateful Dead tribute and Moonalice's Dead-esque originals. You may remember Moonalice from its visit last year. The band's countercultural rock is a throwback to bygone times, when concerts were free, hair was flowing, and love itself had its very own designated season and year. What a great way to celebrate our unknowing with these acts, who revive a past purity of culture and creation with the requisite reefer for good brain-clouding effect.
IT'S A SNAP! On Sunday, April 17, at noon, SOhO hosts the most fabulous brunch in town: the Snap! Drag Revue Brunch, where you can enjoy fine foods with a side of gorgeous drag queens from across California. "We celebrate diversity and really showcase that no matter what, you can feel sexy confident and be anything you want to be," says Snap's producer, Borgia Bloom. "Who wouldn't want to start their Sunday feeling beautiful, confident, and all with a plate of bacon?"
SPEAKING OF REEFER: It's that herbal green time of year again, and there are a few shows to pick from if you feel like leaving the couch you find yourself glued to. One such show of note is Solvang's very own legendary ska act, The Mad Caddies, who play at Velvet Jones on Wednesday, April 20. The Caddies are an institution among the skanking set and yet another reason for 805ers to feel proud of what a lovely musical nest our area code holds. Watch them, and engage in a healthy manner of madness.
TAX FREE: Speaking of unknowns: After all that anticipation, it turns out Tax Day has been temporarily moved to Monday the 18th, due to Emancipation Day in D.C. Who knew?