Sports
Who Will Conquer the Amgen Tour's Queen Stage?
Cyclists Fear Gibraltar Road in Next Week's Race Through California
If you blinked, you missed it. The first time the Amgen Tour of California staged a finish in Santa Barbara, in 2006, there was a blur of colored jerseys on Cabrillo Boulevard as George Hincapie edged out a swarm of sprinting cyclists. It was the same in 2013, when Tyler Farrar won a mad dash at East Beach. A year later, Taylor Phinney exceeded 50 mph descending San Marcos Pass and cruised triumphantly down the final stretch.
Speed will give away to brute power next Tuesday, May 17, when the 11th edition of the Amgen Tour comes to Santa Barbara. Instead of finishing on the waterfront, Stage 3 will come to an end at an elevation of 3,300 feet. The last six miles of the 104-mile stage, which starts in Thousand Oaks, will be on the relentlessly steep and winding Gibraltar Road.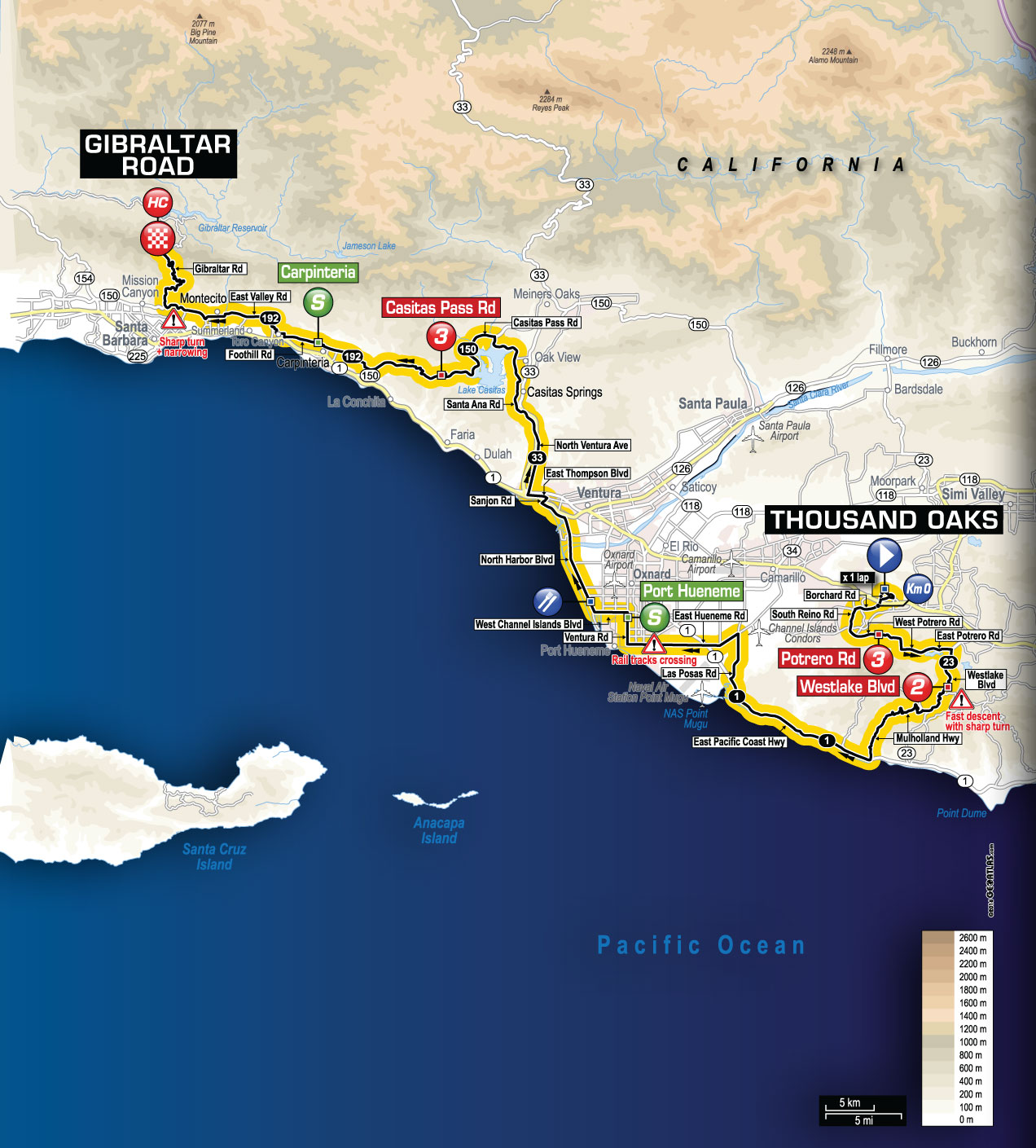 It has been designated as the "Queen Stage," in cycling parlance the most demanding stage of the race that will total almost 800 miles over eight days. In a preview on NBC Sports network, which will televise the action, young rider Lawson Craddock said, "You'll see the race just blow to pieces" on Gibraltar Road. The 8 percent grade is comparable to the climb up the famed Alpe d'Huez in the Tour de France.
Eighteen professional cycling teams, comprising 144 riders, will try to put their strongest climbers in position to take Tuesday's stage. Tinkoff's Peter Sagan, the 26-year-old Slovakian who was overall winner of last year's tour, figures to be in the mix. He also won the World Championship Road Race and got this season off to a winning start in the Tour of Flanders.
Australia's Rohan Dennis of the BMC Racing Team proved to be a fierce climber in the 2014 Amgen Tour when he powered to the summit of Mount Diablo. He finished second in the overall standings to Bradley Wiggins, the British champion who will return to California this year as he prepares for his fourth appearance in the Olympic Games. Dennis had a moment of glory in 2015 when he won the opening time trial of the Tour de France, setting an average speed record of 34.5 mph.
Other international stars include Britain's Mark Cavendish, who excels in flat sprint finishes (four stage wins in California last year); Norwegian sprinter Alexander Kristoff, winner of 20 races in 2015; young French sensation Julian Alaphilippe, runner-up to Sagan by mere seconds in the overall California standings last year; and Daniel Teklehaimanot, an Eritrean who donned the King of the Mountain jersey in France.
Beginning at 2 p.m. Tuesday, traffic along Stanwood Drive, El Cielito Road, and Gibraltar Road will be restricted, according to the S.B. Police Department. The course will be entirely closed at approximately 2:30 p.m. for 30 minutes while the cyclists make their way to the finish line.
Running south-to-north for the second time, the Amgen Tour will start Sunday in San Diego. Other new wrinkles will include the finish of Stage 4 (Morro Bay to Monterey) at the Laguna Seca Raceway, and the closing laps on Sunday, May 22, around the State Capitol in Sacramento.
FORTY-NINERS:  The Santa Barbara Athletic Round Table will conduct its 49th annual Hall of Fame induction ceremony on Monday, May 16. Fred Warrecker, Santa Barbara High's head baseball coach for 42 seasons, will enter the coaches' wing. Five athletes who excelled in area high schools and beyond will be inducted: Chris Gocong (Carpinteria), an All-CIF football player and discus thrower who later was an All-American defensive end at Cal Poly and played five seasons in the NFL; Meghan Moore Reardon (Santa Barbara), who scored a record 88 soccer goals for the Dons and also set a career record at Boston College; volleyball star Gary Pearce (Dos Pueblos), who as a UCSB Gaucho had a perfect hitting performance (25-for-25) at San Diego State in 1980; baseball standout Scott Randall (Dos Pueblos), who pitched for SBCC and UCSB and in 2003 became the first DP player to make it to the major leagues; and Kelly Schmandt Ferguson (San Marcos), a four-year league tennis champion who was ranked No. 2 nationally in doubles at Vanderbilt University.
For tickets to the 6 p.m. ceremony at La Cumbre Country Club, visit sbart.org. The Round Table is also recognizing achievements during the 2015-16 sports year at the Evening with the Athletes, a free program at 6 p.m. Wednesday, May 18, at the Lobero Theatre.
HOOP HUZZAHS:  NBA Hall of Famer Jamaal Wilkes will be guest speaker on Sunday, June 5, at the third annual Santa Barbara Basketball Court of Champions dinner celebrating those who played, coached or contributed to hometown hoops with distinction. The new members are: Jeff Azain, Dave Bregante, Eric Burkhardt, Jerry Harwin, Conner Henry, Cliff Lambert, Shantay Legans, Erin (Buescher) Perperoglou, Jo Ann Reck, Kristi Rohr-Taylor, Phil Womble, and John Zant. [Editor's Note: Yes, the very John Zant writing this!] Santa Barbara High's 2016 CIF champion boys' team will also be honored. The 6 p.m. dinner will take place at the Cabrillo Arts Pavilion. Tickets and information: santabarbarabasketball.com.