Film & TV
'The Darkness' Rides a Scary-Movie Renaissance
Bloodletting and Bad Taste Make Up Today's Film Noir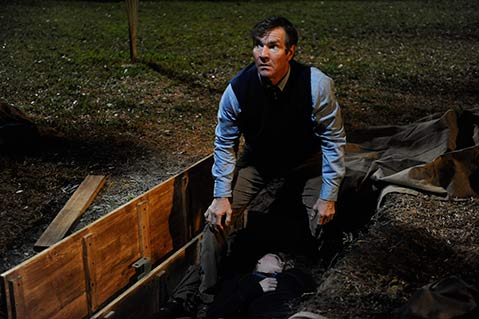 The Darkness isn't genius, yet this middling-scary movie, starring Kevin Bacon and Radha Mitchell, gives time to reflect on why you really should watch horror films. I know; most grown-ups don't do horror, and with some good reason. Certain franchises such as Saw and Hostel seem like mere gross-outs, or, worse, cynical calculations exploiting clichéd formulas. (Although James Wan, who gave us Saw, did go on to create the far more imaginative films The Conjuring and The Conjuring 2, and has branched out into action films with Furious 7 and the upcoming Aquaman). But even with the bloodletting bad taste, the genre is enjoying a renaissance today.
Studios actively finance horror films while lavishly ignoring their actual production, lending filmmakers surprising room to create. The benign neglect comes from the sheer profitability of the genre: The first Paranormal Activity movie was made for $15,000 and cost the studio just over $1 million on advertisement, and it recouped $85 million at the box office. Scary movies turn huge profits.
For these reasons, I proclaim horror the new film noir. The 1940-'50s gumshoe, femme fatale stories now revered began as low-budget B movies assigned to young or foreign directors hopped up on expressionism and A-movie ambitions. Studios looked away as directors cut corners stylishly — under-lighting cheap sets, for example, for effect when making haunting movies such as Detour (1945) and Kiss Me Deadly (1955). Horror filmmakers work the same con: low-budget quickies with most of the money spent on stage blood. It's not new: Francis Ford Coppola, Sam Raimi, and Peter Jackson are all auteurs who began with gore and bumps in the night.
Nowadays, with digital film, computers, and raging CGI talent abounding, scary movies are more vibrant than ever. The most beautiful film I saw this year was The Witch, which was made by an ambitious art director who packed in everything from Christian iconography to fairy-tale cloaks. Last year it was It Follows. Both were terrifying and gorgeous. Many new horror directors such as Adam Wingard (The Guest) and Jennifer Kent (The Babadook) seem smart enough to rival Raimi or Jackson.
But even The Darkness offers more than Hollywood action films. This Kevin Bacon vehicle features a family with an autistic son, bulimic daughter, and alcoholic wife — afflictions at least as mysterious as the demons the film summons to the suburbs. Often a subtle subtext accompanies the outré happenings. A blood-soaked cosmic end (with demons, witches, and ghosts) threatens a beautiful world, though a world far from innocent. Like most nouvelle horror noir, The Darkness offers glimpses of mortality draped in rich formalistic excess, and drips a bit of truth, too.