Travel
Day Trippin'
Six Itineraries to Enhance Your Staycation
Let's assume that everyone who lives here already recognizes that many daylight and late-night hours can be spent strolling the shops, restaurants, and bars of State Street, from the base of Stearns Wharf all the way past the theaters and galleries of the Arts District near the Arlington Theatre. And, by now, thanks to incredible media saturation and booming popularity, let's also grant that the Funk Zone's tasting rooms, breweries, eateries, and assorted other curiosities ​— ​like the Santa Barbara Surf Museum, Arts Fund Gallery, and Blue Door antique shop ​— ​are on the must-do checklist for a vacation at home.
Instead, we present to you six itineraries ​— ​some easy to walk and/or bike, others requiring an automobile ​— ​to bolster your staycation portfolio.
Golden Goleta
Not just the land of suburbs and strip malls, Goleta is also home to some of the most easily accessible yet utterly breathtaking nature experiences in the region, perfect for everyone from young kids to those of advanced, wiser ages. Start the day with a coffee and pastry from the new French Press at Storke and Hollister (thefrenchpress.com), and then head toward Coal Oil Point (coaloilpoint.ucnrs.org) to explore a little-known gem: the Pond Trail, which sneaks behind Devereux Slough, connecting the old Ocean Meadows Golf Course ​— ​now itself an ever-wilder zone of raptors and amphibians ​— ​all the way to the waves and wind-sculpted grains of Sands Beach. The whole walk, four miles if you do the loop, is a paradise for native-plant fans and bird lovers ​— ​egrets, herons, and plovers are almost guaranteed, and you might spot vultures chowing on dead sea lions or hawks attacking snakes, as well. But it's also the perfect place to feel as if you've landed on a remote coastline.
If the tide, time, and stamina are on your side, head all the way up coast to Haskell's Beach, and stop for a bite or drink at the Bacara's beachside shack or in their open-to-everyone rotunda bar (bacararesort.com). Just plan to catch a ride back to town or walk the streets, 'cuz you're miles deep at that point. 
Most mortals will finish the Pond Trail back at their car, so then head back up Storke to scour the less-hectic-than-downtown Farmers Market in the Camino Real Marketplace on Sunday (sbfarmersmarket.org), and catch a freshly made beer at either M. Special (mspecialbrewco.com), Hollister Brewing Company (hollisterbrewco.com), or Draughtsmen Aleworks (draughtsmenaleworks.com), all less than a mile from each other. (Why not hit 'em all if someone else is driving?) Either lunch in Camino Real or across Storke, where authentic tacos live at Lilly's Taquería (lillystacos.com) and even more authentic Chinese food can be found at Lucky Dragon (770-5651).
Hungry for more Good Land fun? Spend the rest of your day exploring the shops of Old Town Goleta, where everything from Mexican cowboy gear to antique toys for kids are on sale. The grub's good at Goodland Kitchen (goodlandkitchen.com) and the original Habit Burger (habitburger.com), or go ethnic at Pattaya Thai, Goleta Sushi, or Noodle City. Polish it all off with a cocktail at The Imperial or frosty ale at the Mercury Lounge, which has been serving craft brew from around the world since before the word "hipster" was invented. —MK
Rock the Waterfront 
Start early and take a walk with coffee in hand along the Sandspit at the Santa Barbara Harbor's outermost edge. The ocean and mountains mesmerize in the morning light from this unique, island-like vantage point, and the surrounding soundtrack of crashing waves, calling gulls, and gently rocking boats make the scene meditative. Follow up with a picnic breakfast on the secluded-in-plain-sight beach at the end of the 'Spit (low tide permitting), or opt for the belly-busting Breakwater Batter Special ​— ​sourdough French toast option a must! ​— ​on the patio at the nearby Breakwater Restaurant (sbbreakwater.com). You'll be hard-pressed to find a more satisfying start to your day.
Later morning is the perfect time to hit one of the stand-up paddle (SUP) rental outfitters in the area, like Paddle Sports Center (paddlesportsca.com). Whether you're a salty vet or it's your first time sweeping the sea aboard a SUP, a casual spin around the harbor and Stearns Wharf combines sun-soaked exercise and visual encounters with dolphins, seals, and, sometimes, migrating whales. There can even be a few sleepy waves to ride should Mother Nature see fit.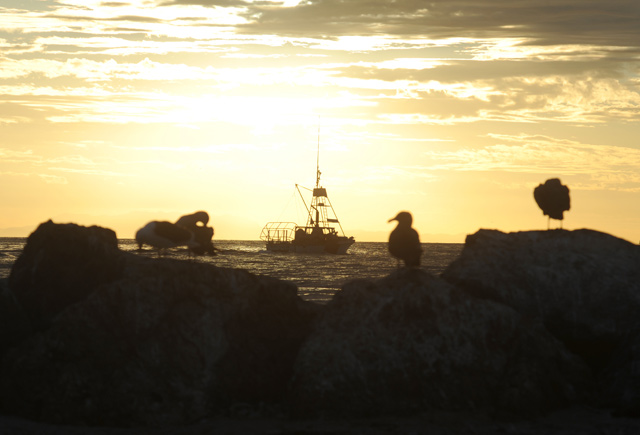 After returning your paddle gear, run for cover and a big dose of seaworthy culture at the harbor's Santa Barbara Maritime Museum (sbmm.org). Located on the first floor beneath the Endless Summer Bar-Café, the museum is ground zero for the South Coast's colorful ​— ​and world-changing ​— ​seafaring traditions.
Then keep your eyes peeled for our only water taxi, the Lil' Toot (sbwatertaxi.com). Hop aboard for a brief ride to Stearns Wharf and indulge in a full-blown tourist-at-home afternoon of everything from fishing (stearnswharfbaitandtackle.com) and Deep Sea wine tasting (conwayfamilywines.com) to one of the best bread bowl cioppinos on the Left Coast (sbfishhouse.com/shellfish-co) and touch tanks full of living sea creatures at the Sea Center (sbnature.org). The latter is a day-maker for the kiddos. —ES
Mountain Hideaways
Our coast gets all the fancy hotels and cruise ships, and our wine region gets the tourism hype and headlines. But in between those two well-traveled places is the lesser-experienced and markedly more natural world of the Santa Ynez Mountains. It is here, among the sweet-scented chaparral and naked sandstone peaks, where staycationers that don't mind a little dirt under the fingernails can really begin to soar. 
Grab a tent or a tow-behind and make a break for Paradise Road to call the Los Padres National Forest (www.fs.usda.gov)
home for a few days. Just a dozen miles from downtown, the numerous campgrounds, with seasonal swimming holes, meandering trails, rock jumps, tall trees, and star-studded night skies, feels a world away but is close enough for day trips. Too starving to cook afterward? Check the schedule at the Paradise Store (paradisestoresb.com) for some live music on the sunny patio with a bucketful of ice-cold beers and a bowl of their homemade chorizo and tri-tip chili. 
Above Paradise Road, just a few miles off Highway 154 along East Camino Cielo, is Knapp's Castle, a somewhat mysterious and long-beloved spot perched above the Santa Ynez Valley. The ruins of George Knapp's early-20th-century mansion have long lived in local lore for hosting wild and somewhat regular ​— ​albeit technically illegal ​— ​full-moon parties and drum circles. While those days are long since done, the new owners of the property have done a terrific job cleaning the place up. Though it remains officially private, they're generally welcoming of respectful sightseers and hikers. The views at sunset are most stirring.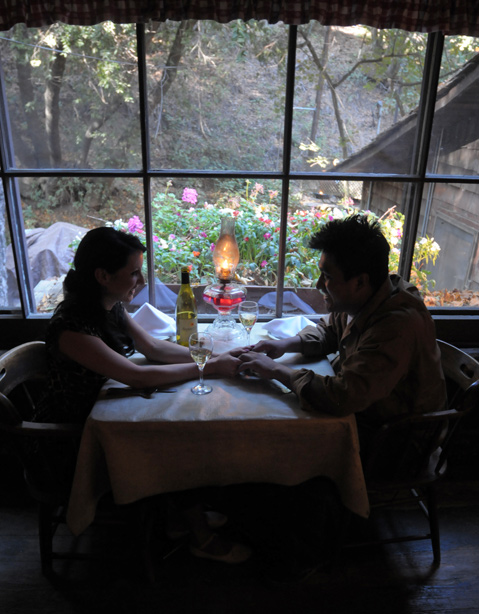 On the backside of San Marcos Pass, tucked down below the elegant curves of the Cold Spring Bridge, is an undisputed titan of the Santa Barbara hospitality: Cold Spring Tavern (coldspringtavern.com). Built in 1865 as a stagecoach rest stop, the tavern remains a welcome sight for the thirsty or hungry or just fun-loving traveler. Looking for that quintessential rustic and romantic candlelit dinner? This is the spot. Want to drink a Bloody Mary with a hundred motorcycle guys while listening to live bluegrass on a Sunday afternoon? This is the spot. Want a tri-tip sandwich that you will talk about for the rest of your life? Come see Tiny and the boys out back of the Tavern every weekend afternoon. —ES
Cruising Carp and Ojai
Staying close to home but still wanting to ramble a bit? Look no further than our neighbors, Carpinteria and Ojai. Spend a slow day working your way from the quiet coast of Carp inland through the scenic twists and turns of Highway 150, past the big shimmering splash of drought-stricken Lake Casitas, and back to the open skies and chaparral-scented whimsy of the greater Ojai area. The adventure is a fantastic reminder of a simpler Southern California long since lost to the march of the mainstream.
Start things right with proper espresso and a top-notch açai bowl at Lucky Llama (facebook.com/luckyllamacoffee), the 4-year-old coffee house and gathering spot created by one of Carpinteria's beloved sons, Ryan Moore. With fuel in your belly and caffeine in the veins, take the short jaunt over to the ocean's edge to wander your way through the morning along the Carpinteria Bluffs Nature Preserve (carpinteriabluffs.org) and the seasonal seal rookery below.
After strolling, it's back in the car and on the road to Ojai. A healthy, delicious, and memorable lunch experience can be found at The Farmer and the Cook Organic Market (farmerandcook.com). A visit to Bart's Books (bartsbooksojai.com) is absolutely mandatory for staycationers and vacationers alike, for this "World's Greatest Outdoor Bookstore" is an absolute joy, whether on your first visit or 50th.
Ojai Avenue downtown (ojaiwalkingmap.com) offers the walking shopper an independent breath of fresh air from the hollow national chains of State Street, and flavors it strongly with an emerging, spiritual hipster ethos. Time things right, and you can wind down your day lying in the grass and listening to live music outside at the Ojai Rancho Inn (ojairanchoinn.com). Not quite ready to head home and looking to call an audible with your staycation? Hit up the brand-spanking-new Caravan Outpost (caravanoutpost.com), and spend the night in full retro glory in one of 11 Airstreams. —ES
Mission Canyon's Many Treasures
No proper staycation would be complete without a stop or two in Mission Canyon, where both passive and more active tourism opportunities abound. Start by stopping to smell the roses at the Rose Garden in front of Mission Santa Barbara, where the large grassy lawn is a perfect place for a picnic or even larger party with friends. Then it's time for a tour of the Mission itself, which too many residents have never done (santabarbaramission.org). Recent work has revealed old walls, restored Chumash-made holy water basins, and protected the crypt inside the chapel itself, the only such underground burial vault in California's mission system.
Just up canyon is the 10-acre Mission Historical Park, where meandering trails take visitors past a dam, an old jail, and other curiosities. It's a great place for hide 'n' seek, as is the adjacent Rocky Nook Park, where boulder hopping and quaint creek time abound.
Across the way is the S.B. Museum of Natural History (sbnature.org), where the butterfly pavilion is opening soon and a giant dinosaur skeleton is coming this summer. A five-minute drive farther deposits you into the parking lot of the S.B. Botanic Garden (sbbg.org), home to indigenous plants and exquisitely designed vistas.
Those ready to walk more should drive up Tunnel Road and park in the designated spots. Access the Los Padres National Forest's many trails from here (www.fs.usda.gov/lpnf), of which Inspiration Point makes a great intro to the surrounding landscape. —MK
Gone Gaviota
Few roadways in the world offer views more glorious than the 101's route along the Gaviota Coast, where mountains jut dramatically out of the glistening ocean and scrape the ever-blue skies with their chaparral-studded sandstone peaks. There's countless places to stop along the way, from state parks such as El Capitan and Refugio (parks.ca.gov) to simple highway-side parking lots that offer magical seclusion in the protected coves below. Those seeking more of a curated experience that mixes in old Californio history should pay attention to the schedule at Arroyo Hondo Preserve, the Land Trust for Santa Barbara County–owned, 782-acre rancho (sblandtrust.org).
Proceed up the coast, and hike either to the wind caves on the west side of the 101 in Gaviota State Park or do the full Gaviota Peak hike on the east side, past the tunnel. Then it's time for blueberry picking at Santa Barbara Blueberries (santabarbarablueberries.com), where it takes a good half hour or so to fill the provided buckets. Indulge your inner farmer even more at The Farmstead (farmsteadca.com), located just a minute from the blueberries on Old Coast Highway toward Nojoqui Falls. They've got raspberries and other fruits to pick but also some of the more curious heritage animals such as kunekune pigs, Sicilian donkeys, and Nigerian dwarf goats.
Still have an appetite? Drive a few more miles up the 101 to Buellton, and chow down at Industrial Eats (industrialeats.com), quite possibly the tastiest food in the region. Wine tasting abounds from here ​— ​Alma Rosa is right next door (www.almarosawinery.com) ​— ​but you can also stay on the weird-animals kick and feed the ostriches and emus at OstrichLand U.S.A. (ostrichlandusa.com). —MK