Theater
'We Want the Funk'
UCSB Launch Pad Presents 'A Rustbelt Lullaby on the One'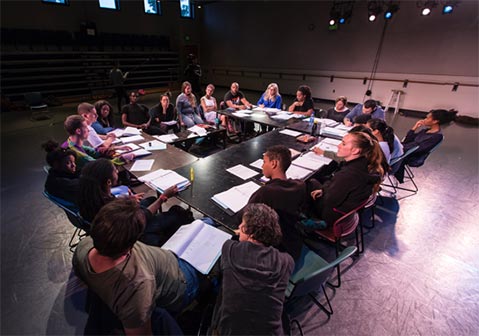 With Hamilton the hottest ticket on Broadway and hip-hop the music of choice for millions of people worldwide, it's about time that black music's influence is felt more generally in the world of American theater. With We Want the Funk: A Rustbelt Lullaby on the One, rapper, playwright, and professor Idris Goodwin brings his deep knowledge of both stagecraft and the African-American musical tradition to UCSB's Hatlen Theater for two weeks of soul-stirring and booty-moving via Risa Brainin's nationally acclaimed Launch Pad program. In Launch Pad, the school's Department of Theater commissions an established playwright to come to campus for an extended period and work together with students and professional designers to mount a fully staged production of a work in progress. Goodwin's play — which is not, strictly speaking, a musical but which relies heavily on the conventions of black music for its structure — follows a group of displaced autoworkers who come together to form a funk band. Their leader, a man named Chuck, can't yet play an instrument but believes in the power of music to transcend social challenges such as poverty and unemployment. Through a series of complex interactions involving repetition, call-and-response, and rhythmic patterning, the large cast of former factory workers becomes a collective funk machine making music with the same gusto and energy that they used to make cars.
Speaking with Goodwin last week at UCSB, I learned that this project is just one aspect of a long-standing commitment to uncovering and giving voice to what he termed "music delivery systems — the politics of how music gets to people and the true stories of where great black music comes from." In such previous shows as How We Got On and The Realness, both parts of Goodwin's "Break Beat" cycle, he looked at the rap dreams of young people like himself, growing up in the suburbs and looking toward the city as where you go to make it in the music game. With We Want the Funk, Goodwin moves further back in time to the 1970s, when James Brown, the Meters, and Parliament-Funkadelic ruled dance floors. Inspired by August Wilson's monumental Century Cycle, a series of plays depicting 100 years of African-American experience, Goodwin aims to reveal the impact of hip-hop on the complex and multicultural American scene of the past 40 years.
For UCSB students such as Jore Aaron-Broughton, Tonea Lolin, Charles Grant, and Alexander Hudson, We Want the Funk offers the opportunity to be part of a creative team that includes both professional actors Jeff Mills and Jenna Scanlon and top stage artists such as scenic designer Shaun Motley and costume designer Devon Painter. For Santa Barbara musician Randy Tico, We Want the Funk is a chance to show his chops as a composer and a sound designer in a production that's all about the music. Finally, for director Brainin, the show is another chapter in an ongoing story about what happens when talented BFA students meet world-class original material while it is still red hot. For the duration of this project, UCSB's Hatlen Theater will become part of America's magnificent musical chain of "chocolate cities." To paraphrase George Clinton, the original Dr. Funkenstein, "somebody told me we got Goleta." —Charles Donelan
4∙1∙1
We Want the Funk: A Rustbelt Lullaby on the One plays at UCSB's Hatlen Theater May 19-27. For showtimes, tickets, and more information, visit theaterdance.ucsb.edu/launchpad or call (805) 893-2064.