Briefs
Spain Bestows Big Honor on Trust for Historic Preservation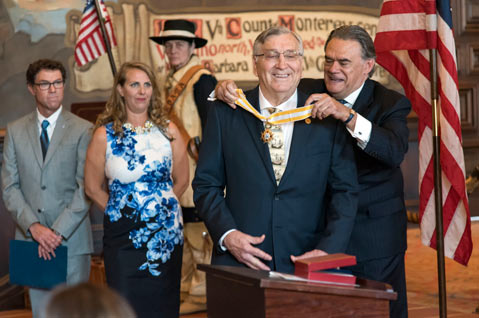 Dr. Jarrell Jackman, former head of the Santa Barbara Trust for Historic Preservation, received the Decoration of Commander of the Royal Order of Queen Isabella the Catholic for Jackman's 35 years of work preserving and restoring El Presidio de Santa Barbara, the city's 1782 birthplace and the last fort founded by the Spanish in North America.
During his tenure, Jackman oversaw the reconstruction of 20 presidio living quarters, as well as complete rebuilding of the presidio chapel. Jackman also oversaw restoration of the 19th century adobe mansion of Spanish-born Don José de la Guerra, and played a crucial role in the purchase of the Santa Inés Mission Mills property and its eventual transfer of ownership to the State of California for future development as a State Historic Park.
"It was a true honor to receive the medallion from the King Felipe VI of Spain," said Jackman after the May 26 ceremony at the county courthouse. Jackman said he and his wife Michele had a special tile made by Jeannie Davis, a direct descendant of Don Jose de la Guerra, for the 100 people in attendance. "She hand painted each one of them and it was a small token of appreciation for all that we have accomplished together to preserve and interpret the Spanish and Mexican history of Santa Barbara," said Jackman.