Visual Arts
'Bread and Butter' Shares Art with Next Generation
New Gallery Downtown Sells Affordable Prints by Local Artists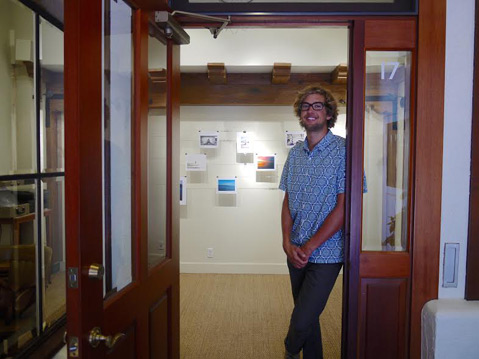 Born and raised in Santa Barbara, Tate Larrick has found a way to combine the two things he's most passionate about: art and community. After graduating from Northern Arizona University in Flagstaff, Larrick returned to his hometown to start a gallery that showcases local artists. Nestled in between State & Fig and Jeannine's Restaurant and Bakery downtown is La Arcada's suite 17. This is the home of Bread and Butter, an art gallery and office space newly opened by Larrick.
The idea for the gallery is based on Larrick's belief that young people should be buying and sharing art made in their community. By only selling affordable artwork, Bread and Butter hopes to make buying art accessible for a younger crowd.
The gallery had its grand opening on 1st Thursday, May 5. Homemade bread and butter were served and the walls were lined with $20 prints of photographs all taken by young, local photographers. The gallery will hold it's second art show featuring artwork by surfer and photographer Trevor Gordon and illustrator and designer Maddie Gordon on 1st Thursday, June 2.
Last week, The Santa Barbara Independent sat down with Larrick to learn more about the vision and concept behind Bread and Butter and how the gallery will play a part in the Santa Barbara community.
What is the overall concept of Bread and Butter?
Larrick: I had this idea probably about eight months ago. The idea was to do something creative that doesn't just satisfy some selfish desire to be creative. I saw this as a super important time for me to take account of what and who I am and to decide who I want to be in the future: someone who is not only creative, but also creative for some purpose. Creativity for a cause.
Bread and Butter is a two-pronged business. One side is content production, like photographs and videos for businesses (mainly marketing content), and the other side is a gallery. They both kind of play into this community aspect of life, because we are only a culmination of who we surround ourselves with.
The community aspect of the gallery is based on Santa Barbara. For such small a community, it's insane there is so much talent. I grew up inspired by people like photographer-filmmakers Morgan Maassen and Donnie Hedden and a handful of just really awesome artists, photographers, and filmmakers. It seemed obvious to create a gallery space that had community at the forefront and a place where people who have something to display can display it.
My generation is filled with people who do digital stuff all the time. We're always shooting photos, we're always shooting videos, but we aren't always tapped into the tangible side of art, which is really what gives it value. There is only so much value to a cool photo on Instagram or even just on a hard drive. There are so many great photographers that shoot digitally, but all their photographs live on these hard drives that are tucked underneath more hard drives that will never see the light of day.
It's really cool to just print something and actually feel it. It gives photography more value than just the digital aspect you get by publishing only on social media.
How does the business and content production side play into it?
L: The gallery space is just one aspect of Bread and Butter. The other aspect is the content production. This side of it is still partially in the works and not fully evolved yet, but the idea is that I want to shoot photographs and make videos for businesses that need it. The goal is to produce content for a business, take whatever profit we make, and start community initiatives that will benefit the local community. We are the middleman between the local businesses and the community. The goal is to bridge that gap.
You just graduated from college and you have the freedom to do so many things. Why did you choose to come directly back to Santa Barbara and start something that roots yourself here?
L: That's a great question, and that's something that I grapple with everyday, because there's such a push to get out. Most people you talk to are like, "You're young! This is the best time to travel before you have kids, or a wife, or a real job. You have to get out and travel!"
I basically graduated with zero dollars, and I spent the first couple months trying to figure out how to make those zero dollars turn into more dollars so that I could travel. I realized that there was no hurry. If it's in your heart to travel, it will happen, and it will happen in it's own time. Bread and Butter and everything with the space, the idea, and the collaborators just came together in such a perfect storm that I couldn't ignore it anymore. I couldn't just push it off and travel and come back to it in a couple years. One day I just woke up with this on my heart. Next thing you know, I was having the gallery opening and people were coming in right as the sign was put up at 6 o'clock. It was insane. It was nothing short of divine.
You have this huge concept and idea behind the actual storefront, the idea that young people should be buying art from their own community. Is selling affordable art something you intend to keep doing?
L: The dream for the gallery is to have cheaper art younger people can buy. Young people are not walking into art galleries nowadays with a wad of cash purchasing $10,000 or $1,000 or even $500 pieces of art. A $20 print is as much as I could spend right now. That's why in this last show, which was our first, I sold everything for $20 a piece. In this next show, Trevor and Maddie Gordon are displaying their photos, and they're going to choose the price. That gives the power back to the artist as opposed to me, but I did tell them they need to have cheaper prints for people who can't afford more.
Your first show was a big collaboration with photographers that you chose, and this next show is showcasing only two people. Will your other shows be like this?
L: Yes. So for the first show, I thought of everyone in the Santa Barbara area that shoots photographs or that I look up to as an artist. I emailed over 50 people and a handful of them, who were super pumped on the idea, got back to me. Those people contributed, and it was unbelievable.
The turnout was incredible considering I had minimal advertising. So until we decide to do another community show like the first one, in this next show and all the consecutive shows, I'm giving the power back to whichever artist is interested in showing.
Do you think your business model works well with the culture and community we have in Santa Barbara?
L: I was socialized in the Santa Barbara scene for better or for worse, and the aesthetic that I have really come to love is kind of this community-based beach and surf scene. That's the aesthetic that I would love to showcase. It's this super gorgeous but also super simple beach living, which sounds cliché, but there's so much beauty in the ocean and the journey it takes. The idea behind the gallery and community is that people will feel invested in what they're looking at because maybe it was taken by a friend, or it was taken on a trip they went on, or they surfed that same wave. The idea is to get our whole community more united around creative things. Unity is important.
Bread and Butter (1114 State Street, #17) opens as an art gallery every 1st Thursday of the month from 5-9 p.m. Every month, a new artist's work will be displayed and available for purchase. During the week, the gallery is used as an office space. To buy art, collaborate, or discuss ideas for advertising campaigns and content production, contact Tate Larrick at info@breadandbutter805.com or 805-451-3824.